5 Top Uses of A Rental Utility Trailer That Make Them Perfect For You
A utility trailer is a non-motorized trailer you can attach to your vehicle to haul heavy loads. However,  this simple definition does not paint a complete picture of how useful a rental utility trailer can be.
Whether you love taking on DIY projects or own a business that requires moving materials from one place to another, a rental utility trailer is simply one of the most important investments you can make.
Utility trailers come in all shapes and sizes. These trailers can be closed or open, massive or small, simple or tailored to match the vehicle you are towing them behind.
Their design and ability to carry heavy loads make them flexible and versatile. Depending on the industry your company works in, there are several uses you can get out of a utility trailer.
This post will highlight some of the most common uses for rental utility trailers. It can help you understand why investing in renting one for your hauling needs could be one of the best decisions you can make.
Five Uses of A Rental Utility Trailer
1. Moving Supplies & Equipment on the Job Site
Utility trailers are incredibly popular in the construction, landscaping, and roofing industries. The right utility trailer can efficiently haul supplies, heavy equipment, and machinery to and from your job sites.
By simply hitching the right kind of rental utility trailer on a work truck, your crew can transport more equipment to the job site instead of making multiple trips. This reduces the amount of time it takes to move essential supplies.
2. A Rental Utility Trailer Makes it Easier to Transport Furniture
The uses of a rental utility trailer go beyond your business. Suppose you and your family are moving to another place across town. Why should you bother hiring movers if you can transport all the furniture by hauling it behind your work truck?
Many people do not realize that utility trailers are more than capable of carrying furniture, appliances, and other items safely. Renting a suitable utility trailer gives you far more value for money than renting a moving truck or hiring movers.
Depending on how much stuff you need to haul, you might still need to hire a moving truck. However, you cannot rely on movers to ensure everything reaches its destination safe and sound. Towing a rental utility trailer behind your vehicle with the more fragile furniture and appliances can give you peace of mind.
You will likely drive the vehicle with greater care for your belongings than third-party movers.
3. Transporting Recreational Vehicles & Power Sports Equipment
Suppose you are enthusiastic about dirt bikes or ATVs, but all the best spots are nowhere close to where you live. It would not make sense to simply ride your ATV or dirt bike to where you need to go. In addition, you might want to take a few supplies along for the journey
Carrying all the supplies in recreational vehicles is not practical. It could even be dangerous if you have a lot of stuff to take with you. The most practical choice would be to get a rental utility trailer. You can simply hitch it to your truck or SUV and load the recreational vehicles on it.
A utility trailer can be the most cost-effective method to transport small recreational vehicles and power sports equipment. Additionally, you will not need to worry about the supplies you need, especially if you are making it a weekend trip with friends and family.
4. A Rental Trailer Offers Extra Cargo Space
Suppose you have made a big-ticket purchase, such as furniture or big home appliances. You'll probably need additional help to take it home. After all, not everyone owns a flatbed truck with a spacious deck. You need an alternative, and a rental utility trailer could be perfect for the job.
Hiring a moving company to transport things too large for you to carry in your car could be practical. But is it worth all the extra money?
Getting a rental trailer can give you all the space you need to transport large items from the store to your house. You do not need to pay a large amount of money to a moving company. Simply use your own vehicle to tow the utility trailer, hauling whatever you need. It is quicker, more affordable, and practical.
5. Rental Utility Trailers can be Useful for Cleanup
Loading and unloading a ton of trash and debris from a truck can get quite messy, but it is possible. Cleaning up after a big job can become much easier by using a rental utility trailer.
Utility trailers have wide gates and boast enough storage capacity for you to remove large quantities of dirt, grass, leaves, and compost after cleaning up your yard. They are easy to load and unload. You can hitch them to the back of your vehicle and haul everything to the closest landfill.
Even flatbed trucks might not have the same capacity as utility trailers. You can use the additional space on a utility truck to transport larger quantities of trash safely. You might not even have to make multiple trips.
Get the Right Rental Utility Trailer for Any Job at Neighbors Trailer
There are so many tasks that require hauling either large quantities or heavy stuff from one place to another. You think of it, and the right type of rental utility trailer can help you pull it off without any hassle.
You do not just need to ensure you have the right type of trailer. It is also important to get a well-maintained utility trailer in great working condition from a source you can trust. This is where Neighbors Trailer's P2P marketplace makes your life easier.
We boast a wide range of utility trailers at Neighbors Trailer. We are confident you can find the perfect rental utility trailer to meet your needs.
Did You Know We Get Over 1100 Trailer Rental Leads Per Day?
We want to send business your way!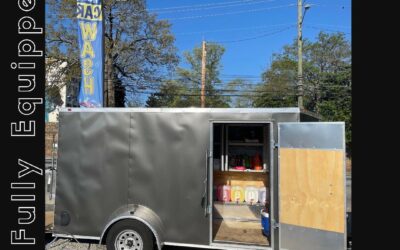 Setting up a car wash and detailing business typically requires a massive investment, but if you are based in Atlanta, GA, and willing to think outside the box, there's a great opportunity for you.