Hydraulic Tilt Flatbed Trailer for Rent in Denver CO
Do you need to haul a car, equipment, or various other types of cargo from time to time? Renting might be the best way to go. Buying a high-quality trailer fit for various applications is expensive. Finding a place to park it and paying for its maintenance, especially if you won't use it too often, will be too impractical.
Neighbors Trailer can make your life easier with a roster of high-quality rental trailers available at low costs, in excellent condition, and available for instant online booking. You don't need to worry about long-term storage, parking, or maintenance because that's the trailer owner's responsibility. Simply book the trailer for as long as you need and pay for the time you need it.
Check out this hydraulic tilt flatbed trailer for rent in Denver, CO. This open flatbed trailer manufactured by PJ Trailer is perfect for many jobs, whether you need to haul a vehicle, lawn equipment, or any oddly-shaped cargo. With a 10,400-lb GVWR, a 12,000-lb winch, straps, and a hydraulic tilt mechanism, this 2022 flatbed trailer rental is perfect for your hauling needs in Denver.
This flatbed trailer rental is very versatile. You don't need to worry about arranging ramps. The hydraulic tilt makes it perfect for loading vehicles like cars, small tractors, ATVs, and much more within its weight specifications with ease. The winch makes it even easier to load your cargo by simply tying it and pulling it onto the trailer. The trailer requires a 2-5/16 inch ball. The 20-ft flatbed trailer is 83 inches wide and doesn't have sidewalls, making it possible to load virtually any cargo under 10,400 lbs.
With plenty of straps included with the rental to secure your cargo in place and ample tie-downs, this dual-axle trailer is an excellent tool to get the job done. Costing only $120 per day with discounts if you're renting for a week or a month, this is the best price for a flatbed trailer rental in Denver, Colorado, especially for a brand-new model in perfect condition.
You can rent this trailer today by clicking this link and booking it. Just remember to bring two forms of government-issued ID, including a valid driver's license and proof of insurance.
The trailer owner is Gerardo Miranda, and they recently joined Neighbors Trailer to list this trailer. Like many other trailer owners, he's decided to rent out his trailer when he's not using it to earn some additional income while helping potential renters like you find a rental trailer for a great price.
And if you are a trailer owner, dealer, or rental company, you can list your trailer for free on NeighborsTrailer.com.
Did You Know We Get Over 1100 Trailer Rental Leads Per Day?
We want to send business your way!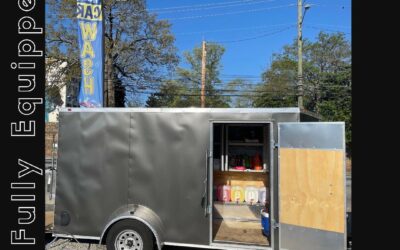 Setting up a car wash and detailing business typically requires a massive investment, but if you are based in Atlanta, GA, and willing to think outside the box, there's a great opportunity for you.