Rental Trailer Owners: How to Attract More Rentals from Your Listing on Neighbors Trailer
Neighbors Trailer's P2P marketplace is becoming the leading platform for rental trailers. People who own trailers that are sitting idle for most of the year get the chance to earn money from their investment. Businesses and individuals looking for rental trailers get an easy way to find the right kind of trailer for every job.
We bring renters and trailer owners together in one marketplace. Trailer owners do not need to worry about the hassles of managing rentals. We handle all the back-end processes to give them a seamless experience. Renters get a trustworthy source for rental trailers whenever they need one.
Did you know there are countless trailers throughout the country currently sitting idle? We noticed this and thought we can help the owners get more value out of their trailer. Instead of letting your trailer sit around for months on end, you can use it to make some extra money.
Of course, it is also important to make sure that people actually engage with your listing.
Have you created a listing at Neighbors Trailer? Are you getting the kind of engagement you expected? If people aren't inquiring about your listing, there might be a few things you can do to change that. Trailer owners, we want to help you make more money by helping you put your investment to good use.
Today's post will be your guide to some practical tips that can help you attract more potential renters for your listing on our platform.
7 Tips to Attract More Rentals for Your Listing at Neighbors Trailer
We have been operating Neighbors Trailer for a while and have noticed what works and what doesn't. Many of the tips we have to share might seem obvious, but a few of them might surprise you. Let's list down the tips that can get you more attention for your listings.
1. Make Sure that the Price is Right
We always advise doing a little bit of research before setting the price for your listing at Neighbors Trailer. Take a look at the listings on our platform for the kind of trailer you plan to list. What are the prices other trailer owners have set? What is the condition of other trailers?
Compare your listing with the rental trailers closest to yours. We recommend setting a price that makes your listing more competitive than others while keeping it fair. You do not want to charge too much for your rental trailer. Set a fair price and people will be likelier to rent from you.
2. Did You Complete the Listing Description?
The listing description section on Neighbors Trailer makes everyone's life a little easier. It gives you a chance to tell potential renters what they should know. It gives them a better idea of what to expect when renting your trailer. If you have incomplete information or if your description barely has anything written there, it will be difficult to engage people.
Peer-to-peer marketplaces require establishing trust. To make your listing look trustworthy, you should be generous with the description. When people know what you are offering, they might feel more inclined to inquire about your listing.
3. Try Adding Multiple Photos to Your Listing
One or two low-resolution pictures do not look good on any listing. Adding several high-quality photos is one of the best things you can do to make your listing more attractive. Make sure you take images that show the condition of your trailer and highlight all the good things about it. Additionally, you should also ensure you don't add pictures of multiple trailers for one listing. It can confuse potential renters and decrease your chances of working with them.
4. Give the Listing Time to Rank
Are you frustrated that not enough people are inquiring about your listing? How long has it been since you made the listing? Sometimes, just being patient might be the key. Once you create a listing on Neighbors Trailer, we suggest giving it some time to rank. Inquiries will start coming in if you have made a good listing. You just need to give it a little time.
5. Use the Power of Social Media
What good is your social media presence if you are not using it to promote your listing? The best way to get more engagement is spreading awareness about your listing. Share your listing on your Facebook, Instagram, and LinkedIn with friends and family. Ask them to share it as well. Chances are, someone in your friend list might know someone looking for a rental trailer.
6. Consider if Your Listing is Good Enough to be Featured
Do you think you have a great listing? Is it good enough to be featured? At Neighbors Trailer, we help trailer owners with excellent listings get a little boost each week. You can send us an email to be considered in our weekly best listing for our blog. We will review your request. If we feel that your rental trailer listing should get more traction, you can count on us to promote it on our blog.
7. Show That You are a Neighbors Trailer Member
A growing number of trailer dealerships have started using Neighbors Trailer to set up rental trailers for extra revenue. If you own a dealership, you must have a website. How about sharing a link to your listing on your website? You can also add our logo to the website to show you are a Neighbors Trailer member to get your website visitors to engage with your listing.
Have You Created Your Listing at Neighbors Trailer yet?
Are you a rental trailer owner still on the fence about making a listing? Perhaps you are unsure whether your listing might get any engagement. Or maybe you are worried about whether the renters will take care of your property. Well, you should know that we have a detailed set of terms and conditions that renters need to follow
Renters who fail to take care of the property they rent are always held responsible for caring for rental trailers. To make things better, we also offer insurance that can help you protect your investment when using our platform.
Now that you already know how to attract more potential renters to your listing, you should be good to go. Just head on over to Neighbors Trailer, create your account, and set it all up. Simply follow these tips and you will get the engagement you're looking for.  Welcome to the Neighbors Trailer family!
Did You Know We Get Over 1100 Trailer Rental Leads Per Day?
We want to send business your way!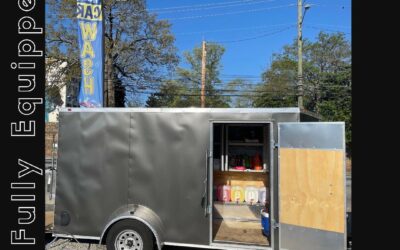 Setting up a car wash and detailing business typically requires a massive investment, but if you are based in Atlanta, GA, and willing to think outside the box, there's a great opportunity for you.