Car Trailer Rental in Queen Creek AZ
A car trailer can be hard to find and expensive to buy.  At Neighbors Trailer we have fixed that problem and made trailers easy to find and rent nationwide and cut out the cost of a purchase.   Neighbors Trailer has all types of  trailers for rent; including, open car trailers.
Check out this 20 ft car trailer rental in Queen Creek, AZ.  This is a very good quality trailer manufactured by Diamond C.  It's an open car trailer with a 5000 lb load capacity.  The solid steel deck gives your load more stabiliity and eliminates stains; unlike wood decks.
The dovetail makes loading low clearance cars a breeze with the slide-in ramps.  Need to haul a vehicle that doesn't run?  No problem because this trailer is equipped with a 9500 lb winch and remote.  Tie down straps are available for rent as well.
This trailer can be rented for only $110 per day or $500 per week.  Prices are subject to change without notice.  According to our research, this was the lowest price we could find for a car trailer rental in the Queen Creek, Arizona area.  You can rent this trailer today by following this link and click on the rent button: 7×20′ Open Car Trailer – Neighbors Trailer
This trailer can be delivered for a fee.  Don't forget to bring your 2″ ball and proof of insurnce when renting this trailer.
This car trailer is owned and rented out by CP Industries.  CP Industries, like many trailer owners, has decided to rent out their trailer when they are not using it as an additional source of revenue.
If you are a trailer owner, trailer dealer or a trailer rental company, you can list your trailer for free on NeighborsTrailer.com
Did You Know We Get Over 1100 Trailer Rental Leads Per Day?
We want to send business your way!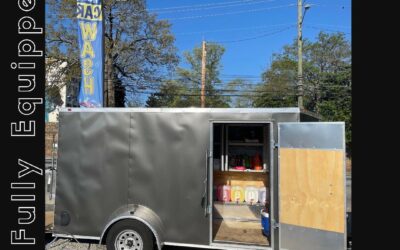 Setting up a car wash and detailing business typically requires a massive investment, but if you are based in Atlanta, GA, and willing to think outside the box, there's a great opportunity for you.