Equipment Trailer Rental Vancouver, WA
Finding an equipment trailer to rent in Vancouver, WA can be difficult unless you know where to look.  Neighbors Trailer has removed the frustration from your search process and will help you find the trailer you are looking to rent.
Check out this 2022 20′ equipment trailer rental in Vancouver, WA.  This very well built trailer was manufactured by Iron Bull. The trailer is equipped with Rampage loading ramps, removable fenders, a spare tire, tire changing ramp, tools for changing a tire and removing the fenders, and a detachable winch.  
This equipment trailer rental is versatile with its full width ramps and removable fenders.  You can haul just about anything that doesn't exceed the weight capacity of 10,500 lb.  Equipment hauling is permissible as long as the equipment does not have metal tracks.
This trailer can be rented for only $140 per day, $500 per week, or $1500 per month.  Prices are subject to change without notice.  According to our research, this was the most competitive price for an equipment trailer rental in the Vancouver, WA area.  You can rent this trailer today by following this link and click on the "Rent" button: Equipment Trailer for Rent Vancouver, WA
This trailer requires a 2-5/16 inch ball.  The renter is required to provide proof of insurance and a local Washington driver license.
This equipment trailer is owned and rented out by Jake.  Jake is a dog, so his dad will help with the rental process.  Jake, like many trailer owners, has decided to rent out his trailer when he is not using it as an additional source of income.
If you are a trailer owner, trailer dealer or a trailer rental company, you can list your trailer for free on NeighborsTrailer.com
Did You Know We Get Over 1100 Trailer Rental Leads Per Day?
We want to send business your way!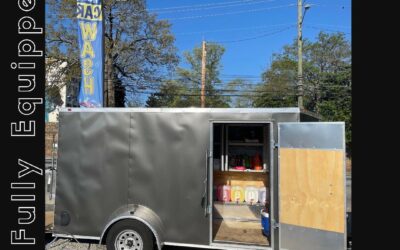 Setting up a car wash and detailing business typically requires a massive investment, but if you are based in Atlanta, GA, and willing to think outside the box, there's a great opportunity for you.