8 Tips for Semi-Trailer Rental You Need To Follow
Semi-trailer rental is an excellent way for trucking companies in the United States to make and save money. These trailers are extremely efficient and adaptable for transporting heavy loads. A semi-trailer rental also allows you to increase the number of transport vehicles you have on hand and effectively meet customer demand. Here are 8 tips for renting the best semi-trailer for your needs.
1.

 
Look Into Trailer Rental Options Online
Finding the best and most affordable semi-trailer rental is critical to increasing your profits. Semi-trailers can be rented for as low as $50 to $100 per day. You must research all of your options and make price comparisons to choose the best deal.
Check for complaints about the rentee and inquire about any possible price reductions that may be available. Get quotes from several different renters before deciding on your best option.
2.

 
Look for an Appropriate Semi-Trailer Rental for Your Needs
Semi-trailers come in a variety of styles. You should determine what your business requires the trailer for before you rent a semi-trailer rental.
What kind of goods or machinery will you be hauling? Are you transporting oversized machinery or perishable items? Do you require access to specific tech? Do you have to stay within a certain range of semi-trailer rental prices?
Finding a trailer for rent that fit your requirements and budget will be much easier once you've determined what you need the trailer for. Let's go over what kind of freight each trailer type is designed for:
Dry Vans
Non-perishable liquids and foods, housing relocation, automobiles, plastics, and textiles are all acceptable transportation items.
Lowboy
Intended for tall, bulky, or broad equipment, such as an excavator.
Reefer
Ideal for any cargo that requires temperature control. Tobacco products, pharmaceuticals, and perishable food and liquids may be included in your shipment.
Dump
Use for tasks that call for aggregates, such as garbage, rocks, sand, or gravel, as well as metal and other building materials.
Tankers
Pneumatic tanks are suitable for transporting ignitable or potentially toxic cargo such as fuel, liquids, chemicals, or gases. They can also move dry bulk materials such as plastic pellets, clay, or sand.
Make sure the rentee has the trailer that will keep your cargo safe before you commit to renting a semi-trailer.
It is also possible that you will require access to a specific technology. One advantage of renting a semi-trailer is that the trailers are regularly upgraded with cutting-edge equipment and technology. You may want to include the following features in your lease:
● Anti-rust technology
● Self-steering axles
● Temperature control and tracking
It is also extremely useful to know the conditions along the route. It will allow you to choose the most appropriate trailer for them.
3.

 
Make Sure There Are No Hidden Fees or Costs
Make sure to thoroughly read the rental contract and look for any hidden charges or costs before agreeing to it. Inquire about upkeep, roadside assistance service, and insurance costs. Ask what is and isn't covered by rental.
Will you be billed if you don't return the semi-trailer in the same state or with the same quantity of gas? Ensure that you know any potential extra costs and that everything is in writing.
4.

 
Ensure an Appropriate Truck Is Available For the Trailer You Choose
Keep in mind that you will need to have a truck ready to tow the trailer you rent. You should consider tractor-trailer renting if you do not own a truck. You must also be cognizant of the US Department of Transportation's precise size and weight recommendations for it.
State and local regulations may also apply to every semi-trailer and truck pairing. Be sure to check the regulations in your area before selecting a truck and trailer combination.
5.

 
Make Sure the Trailer Properly Connects to Your Truck
It can be dangerous to have a trailer that does not correctly connect to your truck. Perform a thorough inspection to ensure that the trailer is ready for the journey ahead before you leave. You can avoid a mismatched trailer-truck pairing by ensuring the trailer is suitable for the hauling truck ahead of time.
6.

 
Determine How Long You Need to Rent the Semi-Trailer For
Semi-trailer rentals usually come with a variety of rental options, such an annual, monthly, or weekly rental contract. Determine how long you need the trailer for. Then, see if the trailer you require is available for the duration you require it for. It's also a good idea to look into the maintenance options provided by your rental company.
7.

 
Get Insurance
You must get insurance to avoid costly damage repairs when renting a trailer. Damage can occur when trying to secure goods on a trailer or when loading and unloading. You may also face financial losses if theft occurs. Insurance will assist you in mitigating these risks. Every trailer rentee has its own set of rules, and some can offer you a package deal. Consider your options and choose the one that clicks.
8.

 
Inspect the Semi-Trailer Before You Drive Away With It
Thoroughly check your semi-trailer rental before you drive away with it. It will help you avoid having to return to the rentee you choose on an online marketplace like Neighbors Trailer. It will also help to avoid unpleasant surprises when you go to drop it off. Go through the following inspection checklist when you turn up to pick up your rental:
● Ensure trailer-truck compatibility
● Inspect the electrical parts and technology
● Take note of any previous damage
Renting a Semi-Trailer Is Easy and Safe With Neighbors Trailer
Neighbors Trailer makes it convenient for people to find a rental semi-trailer. We allow all types of trailer owners to list their trailers on our marketplace to assist you in finding the right semi-trailer that meets your specific trucking needs.
Did You Know We Get Over 1100 Trailer Rental Leads Per Day?
We want to send business your way!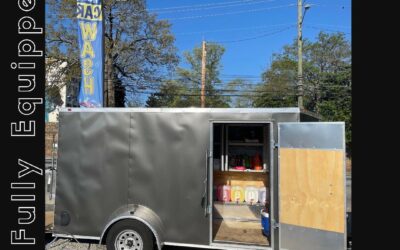 Setting up a car wash and detailing business typically requires a massive investment, but if you are based in Atlanta, GA, and willing to think outside the box, there's a great opportunity for you.