9 Types of Trailers You Can Rent for Your Needs
The trucking industry is one of the most critical parts of the supply chain and integral for most businesses. The industry itself is dependent on several components, and trailers are essential. However, there is extensive diversity in the cargo and shipments; therefore, multiple types of trailers are a part of the service process.
People in the trucking industry know how critical the differences are because they use this knowledge to optimize their logistics. This information is helpful for everyone; hence, this blog will list the types of trailers to help you familiarize yourself with them.
9 Types of Trailers You Can Rent
Trailers are categorized based on unique characteristics of the type of cargo they can carry. Following are some of the most commonly used trailers you will come across in the industry:
1.
Cargo Trailer/Enclosed Trailer
Enclosed trailers are structured like rectangular boxes and are the most common trailers used for transporting simple cargo. The reason is that they are stable and secure and keep the items protected against natural elements, accidents, and similar problems.
They are also highly affordable and are often the primary choice for trucking businesses helping people move their belongings. The only limitations of the enclosed trailer are the size and the weight it can carry.
Enclosed trailers can reach nearly 53 feet in height and carry about 43,000 pounds.
2.
Dump Trailer
The construction industry typically uses dump trailers to carry sand and similar materials to construction sites. They are shaped like a rectangular top open box and are structured such that you can lift the side attached to the truck to empty the contents.
Some dump trucks are also designed to allow one of the longer sides of the box to open. Such a system makes it easier to remove items stacked inside without tilting.
Despite being a convenient trailer type, dump trucks with 18" side height can only be used to carry 8,000 pounds at most. It is critical to keep the weight limit in mind when using them.
3.
Flatbed Trailer
Flatbread is the most commonly used trailer in the entire trucking industry and serves as the primary design reference for several other types of trailers. Unlike the enclosed and dump trailers, these are open from all sides and are typically used to transport steel, lumber, etc.
They are the easiest to load and offload, making them incredibly flexible, adaptive, and cost-effective. The only drawback is the lack of protection which can be a hindrance during poor weather conditions.
4.
Hotshot Trailer
Hotshot trailers are similar to flatbeds, but they are used for quick deliveries. They are arranged such that one part can be used as a slope to load and offload items. They are smaller than regular flatbeds and can only carry 18,000 pounds.
However, this ability is fascinating, considering their quick delivery capability and flexibility. Since hotshot trailers are deployed to meet strict deadlines, they are structured such that they are capable of accommodating turnings that most other trailers cannot due to their size.
5. Horse Trailer
A horse trailer is a special trailer designed specifically to transfer horses from one location to another. Although the trailers' shape, size, and design can differ, each is set up to have a separate compartment for a horse inside with a window facing outdoors.
The purpose is to prevent the horses from panicking in an enclosed space, allowing them to observe the outdoor scenery. All horse trailers are designed to keep the horses secure and restricted to their sections to avoid chaos.
The back end also has an extendable slope to make it easier for the horses to climb inside.
6. Motorcycle Trailer
Motorcycle trailers are relatively small and used to transport motorbikes across long distances. They can be open and enclosed, depending on the style you choose, with open ones tilting down into a slope.  They also vary in size depending on the number of motorcycles they need to accommodate.
7. Semi-Trailer
A semi-trailer cannot carry its own weight entirely and needs the rest to be supported by the tractor unit. Semi-trailers are typically large and carry heavy items like underground pipes and similar objects.
Due to their structure, they cannot be pulled by simple vehicles and require a sizeable unit to support them. These 18-wheelers are enormous and can carry heavy loads of 80,000 – 19,000 pounds! It is an impressive trailer and is used for most heavy-duty transportation.
8. Less-Than-Truckload Trailer
A less-than-truckload trailer is a form of enclosed trailer used to transport goods. The primary aspect that makes it unique is that it is meant for cargo that may not fill the entire capacity, hence the name.
This trailer is mainly used to transport cargo from several vendors, meaning most cargo is of different shapes and sizes. It is an affordable solution but somewhat time-consuming; therefore, it is used for non-urgent deliveries.
9. Specialty Trailer
Specialty trailers are unique and meant for diverse functions. For example, some are used to carrying boats, while others give actors their place of rest on sets between takes. There are other options as well, which are meant for specific duties.
For example, the trucking industry uses specialty trailers to transport a high volume of oil or other liquids. Each specialty trailer follows specific design conditions that accommodate the task they are used for, and you cannot use them for other purposes.
Wrapping Up
Although we have provided several types in the list above, this actual list is far more comprehensive. We hope you found this blog intriguing and informative and will use this knowledge for your benefit.
Neighbor's Trailer is a leading business offering trailer rentals as a service to individuals and businesses alike. Don't hesitate to contact us if you need to rent a trailer. We will evaluate your needs and ensure we provide the most suitable trailer for the
Did You Know We Get Over 1100 Trailer Rental Leads Per Day?
We want to send business your way!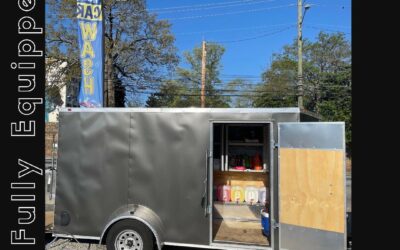 Setting up a car wash and detailing business typically requires a massive investment, but if you are based in Atlanta, GA, and willing to think outside the box, there's a great opportunity for you.