Are There Special License Requirements for Towing a Trailer?
Trailers are large and heavy structures. As such, driving a vehicle with a trailer hitched to it will not be as easy to maneuver and control as driving the vehicle by itself. Ineptness while towing a trailer could very easily lead to road accidents, jeopardizing your safety and that of other drivers.
Therefore, a person has to be a skilled and experienced driver to qualify for towing a trailer. This article will explain whether or not you need a license to pull a trailer.
Do You Need a License to Pull a Trailer?
Keeping in mind the dangers of towing a trailer, the state needs the assurance that you're a skilled enough driver to control and manage such a sizable vehicular body hooked to your automobile. Fortunately, depending on the weight class of your trailer, your standard driving license will, in some cases, suffice in providing this assurance to the state.
If the gross combined weight rating (GCWR) of your vehicle is below 26,000 pounds, you are legally allowed to tow the trailer with an ordinary driver's license. Gross combined weight rating is the greatest amount of weight your vehicle is rated to carry. A GCWR value also accounts for the weight of the trailer along with the weight of the driving vehicle. Towing a weight greater than the GCWR can potentially endanger you, your trailer and vehicle, the passengers, and other drivers on the road.
If the gross combined weight rating of your trailer happens to be higher than 26,000 pounds, even by just 1 pound, you can no longer tow the trailer using your normal driver's license and will instead have to apply for a commercial driver's license (CDL).
The federal government governs these weight restrictions and regulations involving driver's licenses, and the department of Federal Motor Carrier Safety Administration (FMCSA), a division of The Department of Transportation, is in charge of implementing these regulations.
That is why, if you attempt to tow a trailer that exceeds the maximum weight limit without having the required CDL, you could be charged with federal fines ranging from $2,500 to $5,000. Moreover, you could also face some jail time and have your license suspended. To prevent these penalties, make sure you're complying with the regulations.
CDL Requirements for Trailers
Commercial driver's licenses have been categorized into three main classes depending on the weight and type of cargo you'll be towing. The classes are as follows:
Class A CDL
A class A commercial driver's license is required when the GCWR of your trailer and driving vehicle is equal to or greater than 26,001 pounds and the GVWR (gross vehicle weight rating) of the trailer is greater than 10,000 pounds.
You can check the certification label on your driving vehicle to determine whether the GCWR of the vehicle is higher than 26,000 pounds. If you cannot find the certification label or if the vehicle does not have a manufacturer-stated GCWR value, you'll have to get an estimate on whether the combined weight of the trailer and the tow vehicle exceeds 26,000 pounds. You can do this by checking the vehicle's specifications on the manufacturer's website.
Class B CDL
You will need a class B commercial driver's license when the GCWR of the truck and your trailer go above 26,000 pounds, but the GVWR of the trailer should be below 10,000 pounds.
Generally, a Class B CDL is a requirement for people driving a single large vehicle such as a truck or a bus and not so much for towing. However, one could potentially use their large vehicle for towing purposes also.
The primary difference between Class A and Class B CDLs is the GVWR of the trailer or load. With a Class A CDL, you'll be able to tow a greater load or heavier and larger trailer than with a Class B CDL.
Class C CDL
Any single vehicle or a combination of vehicles, such as a truck towing a trailer that is dedicated for the transportation of sensitive cargo such as hazardous materials or passengers (16 or more, including the driver) and does not fall into the descriptions of Class A and Class B as defined above will require a Class C CDL.
Trailer Requirements You Must Meet to Avoid Getting Fined
In addition to requiring a driver's license, there are a few other regulations that you must comply with. The regulations have been established in order to prevent road accidents and ensure the safety of everyone on the road. Following are some regulations you must uphold:
Safety Chains
Tethering your trailer to the towing vehicle using safety chains is an essential requirement that helps reduce the likelihood of road accidents. The chains serve as a contingency in the event that your ball or coupler was to fail and the trailer was to detach from the tow vehicle.
The chains would help keep the trailer connected long enough so that you can safely come to a stop and address the problem.
Trailer Lights
Trailer lights are an important feature for informing other drivers on the road that there is a vehicle ahead of them, especially at night. This can give drivers the heads up they need to avoid crashing into your trailer on a poorly illuminated road at night.
Trailer lights include turn signals, brake lights, taillights, and even reflectors on the trailer. This means you'll also need an electrical connection to sync the braking system, turn signals, and other features of your towing car with your trailer lights.
License Plate Light
A license plate light on your trailer is a key legal requirement, despite the fact that it is sometimes disregarded. The license plate must be illuminated at night so that it is visible to other drivers, including law enforcement. The absence of license plate lights can lead to fines, and perhaps even your license getting suspended.
In Search of a Trailer?
Renting out your trailer can be an excellent source of passive income. In contrast, a rental trailer can also be a great way to fulfill your adventurous whims without having to invest big. Neighbors Trailers is a never-before-seen digital rental marketplace for trailer owners and renters. So, if you're in search of a rental trailer or want to rent out your trailer, visit Neighbor Trailers and let us connect you with appropriate prospects that can satisfy your needs and requirements.
Did You Know We Get Over 1100 Trailer Rental Leads Per Day?
We want to send business your way!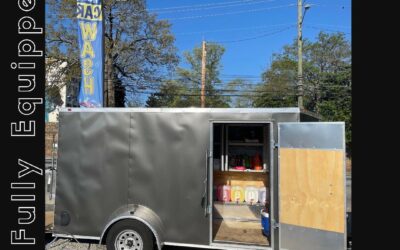 Setting up a car wash and detailing business typically requires a massive investment, but if you are based in Atlanta, GA, and willing to think outside the box, there's a great opportunity for you.