Car Trailer Rental in Manassas VA
Are you looking for a car trailer for rent in the Manassas area?  Neighbors Trailer has all types of  trailers for rent; including, flatbed car trailers.
Check out this 20 ft car trailer for rent in Manassas.  This New 2022 car trailer has a dovetail to make loading and unloading easy.  The dovetail is especially important when hauling cars with low clearance.  The trailer is even equipped with a 12k winch to assist with loading inoperable vehicles.
This trailer offers more versatility than most with it's removable fenders.  The side load ramps are easy to set in place at the rear of the trailer and space the right distance apart to meet your needs.  This trailer rental includes straps for added convenience.
This trailer can be rented for only $110 per day.  When searching for car trailers for rent in or around Manassas, VA, this is the best deal we could find.
This new car trailer is owned and rented out by Jamison E.  Jamison, like many trailer owners, has decided to rent out his trailer when he is not using it to make some extra money.
If you have a trailer you would like to rent out, you can list for free on our website by going to: NeighborsTrailer.com
Did You Know We Get Over 1100 Trailer Rental Leads Per Day?
We want to send business your way!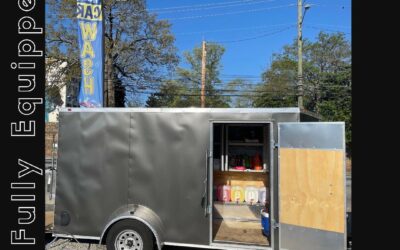 Setting up a car wash and detailing business typically requires a massive investment, but if you are based in Atlanta, GA, and willing to think outside the box, there's a great opportunity for you.