Car Trailer Rental in Orlando Florida
Neighbors Trailer is a peer-to-peer marketplace for trailer owners to post their trailer for rent and a place for renters to find a trailer anywhere nationwide.
Each week, we feature a trailer listing on Neighbors Trailer.  This provides adtional exposure for trailer owners and let's the renter know what trailers are available in their local area.
This week, we found the perfect car trailer for rent in Orlando, Florida.  This 18 ft all-aluminum light weight car trailer was built for versatility.  You can rent this trailer to haul your car, ATV, motorcycle and more.
One of the rare but very useful features of this car trailer rental is the side load option.  The trailer includes ramps that attach to the side of the trailer for loading for times when rear loading is not an option or not preferred.
Another feature we really like about this trailer is the dovetail, aka beavertail, at the rear of the trailer.  The primary advantage of a dovetail is the ability to load low profile cars such as race cars or sporty cars that have a low front clearance.
You can rent this trailer for only $100 per day.  When searching for car trailers for rent in or around Orlando, FL, this is the best deal we could find.
This beautiful car trailer is owned and rented out by Chris F.  Chris decided to rent out his trailer when he is not using it.  Like all trailer owners who list on Neighbors Trailer, Chris has the potential of earning up to $60K per year depending on the trailer and price it is listed at.
If you have a trailer you would like to rent out, check out our website: NeighborsTrailer.com
Did You Know We Get Over 1100 Trailer Rental Leads Per Day?
We want to send business your way!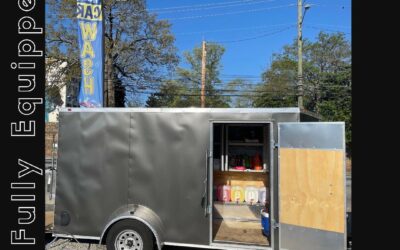 Setting up a car wash and detailing business typically requires a massive investment, but if you are based in Atlanta, GA, and willing to think outside the box, there's a great opportunity for you.