Here is Why a Rental Dump Trailer is the Best Option for Waste Removal
Optimized productivity and improved bottom lines are a priority for most business owners. Proper waste disposal can play a major role in cutting down costs, especially for businesses that deal with large quantities of waste. The choice often boils down to a rental dump trailer or a dump truck.
They are both popular choices for most construction, roofing, and landscaping businesses. Some businesses choose to outright buy dump trailers or dump trucks, but that might not be the most cost-effective option. Many construction businesses consider rental dump trailers for waste removal.
Today's post will help you understand why renting a dump trailer might be a great choice and how you can find the best ones for a great price.
Dump Trailer vs. Dump Truck
Before we discuss why renting a dump trailer is more practical for waste removal, let's understand why they are a better alternative to dump trucks. Many people consider the two similar and use the terms interchangeably. This, however, is far from the truth.
Dump trucks are heavy-duty vehicles designed for hauling heavy loads. From construction material to coal and solid waste, dump trucks can help you get rid of a lot of waste from your project site. They come with large walled "trailers" with a fixed open-box bed on the back. Many of them feature hydraulic tilts towards the front that make it easier to load and unload waste.
Despite the impressive load capacity, dump trucks are standalone vehicles. They weigh a lot, take up a lot of space, and you cannot drive them everywhere without affecting the job site – especially not on landscaping projects.
Dump trailers also boast a good load capacity, and several models feature hydraulic tilts similar to those on dump trucks. However, they are trailers; not vehicles. This means you can tow them using another vehicle, giving them an edge over dump trucks. Trailers do not weigh nearly as much as dump trucks. You also get more maneuverability and can access more areas with dump trailers than dump trucks.
Dump trailers might not have load-bearing capacities that can compete with dump trucks. However, the convenience they offer more than makes up for it.
Four Reasons a Rental Dump Trailer is the Best Option for Waste Removal
Many of the benefits of getting a rental dump trailer for waste removal are their differences from dump trucks. Let's take a better look at them to help you understand why they can be an excellent investment to improve your company's profitability.
1. Rental Dump Trailers are more Economical
The first reason investing in a rental dump trailer is better than outright buying one is the cost of buying and owning one. You might think that the cost of renting dump trailers might be far greater than making a one-time payment to buy one in the long run. However, that is hardly how it really is.
Dump trailers, especially those with hydraulic tilts, require regular maintenance and upkeep to get the best performance out of them. Your company might work on several projects where you do not even need to use them. The cost of storing and maintaining something you might not use regularly can have a negative impact on your operational expenses.
When you rent a dump trailer, you only pay for the time you need to use it. There is no large upfront purchasing cost, maintenance fee, or storage problems. You only pay for it if and when a project calls for it.
2. You Can Rent Custom Trailers
You can find more affordable types of trailers if you search the marketplace. Utility trailers and flatbed trailers might come at a better price tag. While you can use them for waste removal, you might find it more challenging than using a dump trailer. Fewer utility trailer models come with hydraulic tilts, and most of them feature wooden decks that can easily break if you're hauling heavy loads.
Many flatbed trailers do not come with side walls. It is impossible to haul solid waste without dropping it. You can customize utility trailers to carry the waste on them. However, neither of these types of trailers are designed to handle the loads dump trailers can.
It is always a good idea to get the right tools for any job you do. A rental dump trailer is designed to meet all the requirements for hauling large quantities of waste.
3. A Rental Dump Trailer is More Versatile
Your waste removal requirements can be drastically different based on the industry you are in. A landscaping business, construction company, and roofing contractor will not have the same requirements for load-bearing capacity or dimensions. Furthermore, they might have different waste disposal needs for each project they take on.
Buying a dump trailer means you will have to use the same trailer for all your projects that require waste disposal. Renting one makes it easier for you to choose the perfect trailer for each job —or not use one at all if the project does not call for it.
4. Rental Dump Trailers do not Need Licenses
Driving a dump truck requires a Class B Commercial Driver's License (CDL). Suppose you do not have a qualified person in your workforce with a dump truck CDL. You will have to spend more money on getting the license or hiring someone with one. Most dump trailers do not come with special license requirements because you can tow them behind work trucks you should already have for your business.
Get the Perfect Rental Dump Trailer for Waste Removal at Neighbors Trailer
A rental dump trailer gives you far more flexibility and versatility. It also makes more financial sense than the other options available in the market. Of course, getting the best results out of the dump trailer requires ensuring you rent one in great condition and for an ideal rate.
You simply can browse through the selection of Rental Dump Trailers at Neighbors Trailer's P2P marketplace to find the perfect fit for your needs.
Did You Know We Get Over 1100 Trailer Rental Leads Per Day?
We want to send business your way!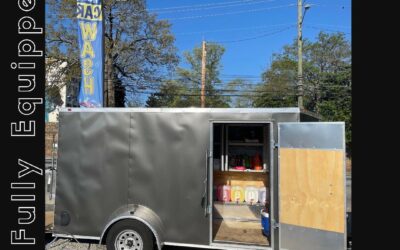 Setting up a car wash and detailing business typically requires a massive investment, but if you are based in Atlanta, GA, and willing to think outside the box, there's a great opportunity for you.