How to Buy a Used Trailer
Trailers are a necessary part of the supply chain industry that you cannot do without. However, it isn't always necessary or feasible to buy brand-new trailers. The product is expensive, and new businesses can't afford the high expense. But then a poignant concern arises; how to buy a used trailer.
We have been in the trailer rental industry for several years, so we understand your concern. We have taken several procurement routes for Neighbor's Trailer, allowing us to understand the operational dynamics.
Therefore, we are in the best position to provide a guide on how to buy used trailers.
How to Buy a Used Trailer
Buying a used trailer is a slightly more complex process than purchasing a new one. With new ones, you only need to ensure you partner with a reliable supplier, while used ones require extra considerations. Firstly, there are two primary channels for buying used trailers:
Auctions
Private Owners
Both channels are effective sources for procuring the required product, albeit distinct.
Auctions
Auctions are one of the most commonly used platforms for buying and selling trailers. Several buyers rely on them because any seller participating in an auction is verified, so there is minimal risk of fraudulent behavior. Following are some of the aspects you need to remember to take advantage of auctions:
1.
Look for Auctions Online
Online auctions are the easiest to find because they are just a few search results away. Your primary concern should be to find reliable online auctions and look them up to check if your preferred trailers are up for sale.
The organizers will likely request authentication and verification to maintain security. However, you can participate in the relevant auction and bid for the trailer once you are through the process.
2.
Find Out About In-Person Auctions Through Your Network
Although most auctions have now shifted online, a few featuring trailers are still in person. There might be information about them on online platforms, but it is best to expand your network.
Your industry network grapevine will likely help you gain the information more efficiently, giving you enough time to plan the bidding and purchase.
3.
Thoroughly Research the Trailer Being Auctioned
Auction houses will verify the identity and legitimacy of the seller. However, you will need to make some effort to find information about the trailer being sold. Ensure you partner with reliable inspectors or visit the location to evaluate the trailer in detail.
Be vary of any damage and rusting because the last thing you want is to place a bid for a faulty product.
4.
Keep a Maximum Budget in Mind
You are competing in a mini-market with people who also want the same trailer. So, the bid will keep climbing based on the value the bidders perceive the trailer can grant them. The worst thing you can do is make the process emotional and overspend.
Evaluate the utility of the trailer you are bidding for and compute a maximum price you are willing to pay. Ensure that your final bid does not exceed this value because otherwise, you'll be making a loss.
Private Owners
Although auctions are impressive, they aren't the only way to purchase used trailers. Instead of looking for a trustworthy auction house, you can also buy the product directly from private owners (individuals and corporations).
Following are some of the factors you'll need to consider when purchasing from private owners.
1.
Confirm Legitimacy of the Seller
Although private owners of trailers are easier to find, the responsibility to verify their identity falls entirely on you. Hence, you'll need to conduct comprehensive background research and approach people in the industry to ensure the seller you've found is not a fraud.
2.
Do Not Transfer Funds Without Inspection
Please do not sign any agreements or contracts until you thoroughly inspect the trailer. The seller may present an inspection result, but it is always better to hire your inspector or engineer to present a detailed evaluation.
You need to know if the seller has mentioned every repair and maintenance detail about the trailer before buying the product.
3.
Negotiate a Fair Price
The best part about approaching a private owner is that the price goes down instead of up. The overall outcome will eventually depend on your negotiation skills, but you can work with them to set a fair sale price.
Always keep the trailer's utility in mind when negotiating a price to ensure that you neither lose out nor overpay.
4.
Ensure the Trailer Is the Right Size
To ensure you are buying the correct trailer size, inspect the trailer in person. It isn't happening as frequently, but there have been times when sellers have conned buyers into paying more for a smaller trailer.
Tips on Buying Used Trailers
The abovementioned guide will help you navigate the market for used trailers successfully. We have also included some tips to help you perfect the purchase game below.
1.
Get Legal Transfer of Ownership
You must always ensure that you get the trailer's title legally transferred to your name before finalizing the purchase process. It is one of the most overlooked details and eventually causes audits and asset declaration problems.
2.
Inspect the Trailer and Its Components
Conduct a comprehensive inspection of the trailer and highlight any traces of damage and rust. Trailers are an expensive investment, so you need to ensure you get a product that can last. Do not compromise on inspections.
3.
Know the Model and Component Support
Always ask about the make and model of the trailer and request information about the parts. Although parts typically remain in circulation for several years, it is best to know if manufacturers are still providing support for an older model you want to buy.
Final Thoughts
We hope this guide on how to buy a used trailer will be helpful for you in the purchase process. Please get in touch with our team if you want to rent a trailer for your business. We are ready to provide the best support and help you make the right choice.
Did You Know We Get Over 1100 Trailer Rental Leads Per Day?
We want to send business your way!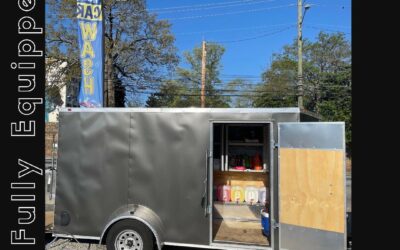 Setting up a car wash and detailing business typically requires a massive investment, but if you are based in Atlanta, GA, and willing to think outside the box, there's a great opportunity for you.