How to Choose the Right Trailer?
Not all trailers are suitable for all towing situations. There are numerous differences in trailer weight, size, hitch, shape, and other factors. All of this can have a major impact on how well it manages behind your tow vehicle. Choosing a trailer that is appropriate for the job can help you tow more safely and ensure the safety of your cargo, trailer, or vehicle.
But, how do you choose the right trailer for you when there are so many options available to choose from? Choosing a trailer can be simple if you understand the factors to consider. Here are the 5 things you need to consider when choosing a trailer for your needs.
1.
Construction
The construction of a trailer determines its longevity and suitability for your needs. Here are some qualities to look for in the trailer, in the literature, or when speaking with a salesperson.
Integrated Systems Approach
Look for a trailer brand that employs an integrated process approach. This approach involves intelligently combining the right parts to deliver the best results. This method outperforms trailers constructed from a random assortment of parts.
Frame
The frame is what holds your trailer together. It is typically made of steel or I-beam, L-shaped, C-channel, or tubular aluminum. The more metal there is in the frame, the tougher it will be. A tube is more powerful than a C-channel, which is more powerful than an L-beam.
Check that the frame is strong enough to support the cargo you intend to transport. Make sure that the cross-members are spaced at the proper intervals to sustain your load. Heavier loads typically necessitate closer cross-member spacing.
Walls
Depending on how you intend to use your trailer, the construction of the walls may be a key determinant in which trailer you select. Make sure that the walls are insulated. It is an important consideration for some cargo trailers.
How close do the studs come? 16" "If you intend to use the trailer frequently, an interval is preferable. 24" if you do not intend to use the trailer for commercial purposes.
Is there a corrosion-inhibiting moisture constraint on the walls? It is an important consideration when it comes to snowmobile trailers.
Safety Features
Check to see if the trailer has any features that will keep your consignment safe and secure. These capabilities include D-loops, E-tracks, and other load-securing devices. Determine whether the wiring is routed through rubber fasteners in the walls and/or roof to minimize wear and the possibility of short circuits. Examine whether the locks and hinges are secured with tamper-resistant hardware.
2.
Suspension
You can ensure shock-free transportation of your vehicle, or cargo by choosing a trailer with a smooth suspension. A smooth suspension can ensure a pleasant towing experience. It is best to rent a trailer with a robust suspension if you need to transport valuable cargo, business goods, or heavy loads.
Leaf springs make up the traditional suspension system. They are commonly used in all sizes of trailers. Leaf springs provide a bouncy ride while being less costly than most other kinds of suspension. Furthermore, metal-to-metal, inter-leaf friction causes more sounds and faster wear. These functionalities can affect the trailer's handling, particularly in sharp turns and when the trailer is not fully stocked.
Suspensions with rubber torsions are more comfortable than those featuring leaf springs. They are better at cushioning rough spots, knocks, and wobbling than leaf springs.
Driveshaft connects the leaf springs. Rubber torsion suspensions, on the other hand, operate independently. The impact from the road on one side of the trailer does not transition to the other. This results in a much smoother ride for the driver, tow vehicle, trailer, and cargo.
3.
Warranty
Consequently, a warranty is an important factor to consider if you are buying a trailer rather than renting it. Having a warranty to cover you, in the long run, is an important consideration when purchasing a trailer. Look for a warranty that covers the essential components and the trailer frame.
Take note of the warranty period as well. A three-year warranty demonstrates the company's confidence in the trailer's quality.
You might want to look for a warranty from a supplier who has dealers all over North America. It will allow you to receive assistance if you relocate to a new location. You should purchase from a reputable company. Hence, look for a supplier that has been in business for many years, has a country-wide dealer network, and has fulfilled the needs of a large customer base.
4.
Brand Reputation
Brand reputation is a critical factor to consider whether you are renting or buying a trailer for your needs. It is a major reason the most successful trailer brands sell more trailers than others. Is the brand you're looking to rent or buy known for its quality and customer service? Is the company willing to honor warranty claims? Are the dealers trustworthy?
These are some of the things you need to consider when choosing a trailer for your needs. You will be able to find a trailer that ticks all the boxes on the Neighbors Trailer marketplace.
5.
Dealer Network and Service Parts
Finally, make an informed decision when selecting a dealer. Look for dealers with a long track record of success and a large geographic footprint. A great dealer should be able to offer dependable and convenient options, a large inventory of parts and components, and trained professionals to assist you with all of your towing needs.
If you are renting the trailer, the trailer owner will have access to all the above, which will ultimately benefit you.
Choosing a Trailer for Your Needs Is Easy With Neighbors Trailer
Neighbors Trailer makes it easy for you to find the right trailer for your needs by connecting you with trailer owners of all kinds of trailers. With our wealth of options, choosing a trailer is easy with Neighbors Trailer. Just shortlist the most appropriate trailers, compare them, and choose one that best matches your requirements. It is that simple!
Did You Know We Get Over 1100 Trailer Rental Leads Per Day?
We want to send business your way!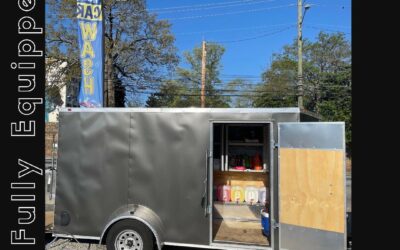 Setting up a car wash and detailing business typically requires a massive investment, but if you are based in Atlanta, GA, and willing to think outside the box, there's a great opportunity for you.