How to Maintain a Trailer – 5 Effective Trailer Maintenance Tips
Trailers are large, sturdy, and dependable structures that can allow the owner to live out their adventurous fantasies, such as camping out in the great outdoors. As such, these remarkable non-automotive vehicles are built with longevity and practicality in mind.
However, lack of proper trailer maintenance will undoubtedly drive your trailer to an early grave, regardless of how well-built it is. Keeping this in mind, this article will guide you about how to maintain a trailer and avoid unwarranted breakdowns and repairs. So, without further ado, let's begin!
How to Maintain a Trailer – 5 Effective Trailer Maintenance Tips
There are several elements that go into the making of a trailer, each serving its own unique purpose in keeping the trailer up and running. Outlined below are 5 practical trailer maintenance tips to help you ensure that each of these vital components stays in good working condition.
Wash Your Trailer after Every Trip
One of the most fundamental steps in any trailer maintenance routine is thoroughly washing the trailer, even more so if you own an enclosed trailer. 
Dirt, mud, and any other filth that may have splashed onto your trailer during your previous trip(s) may erode due to their abrasive nature leaving your trailer unprotected from nature and vulnerable to corrosion. Knowing this, you should make a habit of washing your trailer with a solution of warm water and soap that is designed specifically for automobiles. If your trailer lacks an automotive-grade finish, a bucket of soapy fresh water will work nicely as well.
Once you've applied the soapy solution, rinse it off with a standard hose instead of a high-powered pressure washer, as the latter can harm the finish and damage the trailer body. Make sure that the reflective plates and lights are properly cleaned. Road dust can build up within moving parts and hinder their functioning; therefore, don't forget to rinse the undercarriage.
Check for Rust
Corrosion, or as most people like to call it, "rust," is like a parasite that eats away at your trailer's structure, gradually draining away its strength and causing bits and pieces of it to crumble off. As such, checking for rust and promptly dealing with it is crucial for maintaining your trailer and ensuring it lives a prolonged and adventurous life.
The best time to inspect your trailer for rust would be when you're washing it. As you wash, keep an eye out for any rusty sections and places. Using sandpaper or steel wool, sand away any rust-infected areas you find. Once you're done sanding away all the rust, finish off the areas with waterproof paint to prevent rust from setting in again. Make sure that the trailer has completely dried off before doing this.
After the paint has dried, give your trailer's painted metal pieces a coat of wax to protect the metal components from the environment and rust.
Grease Trailer Parts
Dirt and dust are perhaps your trailer's greatest adversaries. Once they make their way into your trailer's moving parts, they can amplify the resistance in between the moving surfaces, in doing so, accelerating the wear and tear of the said components.
To avoid this, lubricating the joints and axles of your trailer with grease can help keep friction to a minimum and ensure a smooth, low-resistance movement. Generally, any moving or rotating component of your trailer should have adequate lubrication to prevent rusting and excessive resistance. Elements such as a ball hitch, winch, tongue jack, springs, and especially the ball bearings should be kept lubricated year-round.
Check Tire Pressure and Treads
Seeing as how the function of your trailer is primarily dependent on its tires, ensuring they are in good condition is mandatory. The massive load that the tires of a trailer must bear, even when stationary, can cause them to wear out much faster than the tires on your truck or car.
It is common knowledge that tires lose pressure when in use; however, they also lose pressure when they are not in use. Because of this, checking your air pressure, regardless of whether you have used your trailer recently, is essential for maintaining your trailer in a good, functional condition.
The failure to do so can lead to inconvenient situations such as a flat tire on a deserted road. Underinflated tires can also lead to an imbalanced trailer making it difficult for you to maneuver your trailer-hitched vehicle. In the worst-case scenario, you could even find yourself facing a swaying trailer that could potentially lead to your vehicle going off-road or turning over.
With usage, the tire treads also tend to wear out, which can result in a loss of traction and control over the trailer. That is why you must also check your tire treads before and after every trip to make sure your tires are in good enough condition to handle yet another long and heavy journey. Experts recommend replacing your trailer tires every three to five years.
Check Trailer Lights
A lack of functional tail and breaking lights can make it difficult for the drivers behind you to spot your trailer on a dimly lit road at night, thereby increasing the likelihood of them crashing into your trailer. This jeopardizes the safety of all the drivers on the road as well as anyone occupying the trailer.
As such, checking your trailer lights and ensuring they work is not only a trailer maintenance procedure; it is also a way for you to ensure the safety of everyone on the road and avoid violating state laws and regulations and being heavily fined for it.
You can start by following the electrical wiring of your trailer and vehicle to verify that the wiring insulation is in good condition. If you find any spots with broken insulation, wrap electrical tape around the spot to restore the insulation. Any corroded or damaged wiring should be replaced. Also, clean your electrical connectors and apply a bit of dielectric waterproof grease to keep the moisture out.
Theoretically, your lights should work now. However, theoretical assurance won't suffice when the safety of people is at stake. So, get a friend or neighbor to verify that your taillights, brake lights, and turn signals all work when you turn them on.
Need a Trailer?
Neighbors Trailer is the first-of-its-kind digital marketplace that connects trailer owners wanting to rent out their trailers with potential clients in search of rental trailers. The platform-administered transaction ensures safe and smooth dealing for both parties. Additionally, you can find or list all types of trailers on the platform. With that said, if you're in the market for a rental trailer or, conversely, you wish to rent out your trailer, visit Neighbors Trailer now and let us assist you!
Did You Know We Get Over 1100 Trailer Rental Leads Per Day?
We want to send business your way!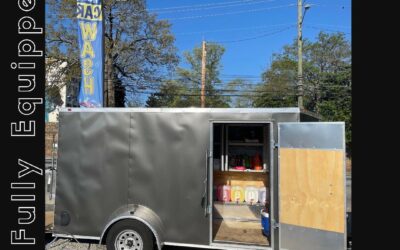 Setting up a car wash and detailing business typically requires a massive investment, but if you are based in Atlanta, GA, and willing to think outside the box, there's a great opportunity for you.