How to Transport Your Motorcycle or Quad with Motorcycle Trailer Rental?
A motorcycle trailer rental is a cost-effective and convenient option for transporting your motorcycle or quad from anywhere. This post will discuss its main features and provide several useful tips on transporting a motorcycle or quad in a trailer.
Why Motorcycle Trailer Rental Is The Best Option For Transporting Your Motorcycle or Quad?
There are many motorcycle or quad enthusiasts in our part of the world who want to ride their favorite vehicle. But they want to do it without having to register on enclosures or private roads designed exclusively for off-road practice.
Some vehicles missing the respective identification plate and certificate of registration are also not permitted to travel on public roads. The owners of these vehicles must transport them to the location where they will be driven.
You can either transport the motorcycle or quad using your means or by hiring a specialized transport service. Transporting the vehicle using your means entails using a van or a trailer to move it to the desired location. Renting a dedicated motorbike trailer will be a great option if you opt for a motorcycle trailer rental.
Why a Dedicated Motorcycle Trailer Rental Is the Best Choice for Transporting Your Motorcycle or Quad?
We suggest renting a dedicated motorcycle trailer as not every person will have a van designed to transport a motorcycle or a quad. There are various types up for rent on the market, including open and enclosed motorcycle trailers.
A dedicated motorcycle trailer is by far the most convenient way to transport a bike. They are much less expensive than a truck or van. They are also built to be low to the ground. It makes it easier to load your bike onto them. They're also extremely strong, stable, and safe.
The first thing to consider when renting a motorcycle trailer is whether it is appropriate for you and your budget. The more costly and bulky your bike, the more robust your trailer must be.
The weight capacities of trailers on an online rental marketplace for trailer owners and renters such as Neighbors Trailer range from 386 lb, which is perfect for a lightweight road bike or a small road bike, to 1220 lb, which will move two or three sports bikes or a single massive touring bike.
What Is The Best Way to Transport Your Motorcycle or Quad in a Rented Motorcycle Trailer?
You can transport a quad bike or motorcycle safely on a standard trailer – just ensure it doesn't move during transport. You can easily accomplish this with lashing belts. Transfer your bike on a crate or pallet if your trailer lacks a place to tie down the belts. It will allow you to adequately secure your quad bike, irrespective of the size or dimensions.
The Steps for Transporting Your Motorcycle or Quad in a Rented Motorcycle Trailer
Riding your motorcycle or quad bike is the most convenient way to get from point A to point B. However, you may not always have that option. There are several reasons to load your bike onto a trailer. Two steps are involved in safely transporting a motorcycle or quad bike in a trailer, whether you're a competitive rider or simply traveling a long distance for a destination ride. The following are the steps to follow.
1.
Load Your Trailer
The first thing you need to do when loading your bike onto a trailer is to ensure that the trailer is hitched and completely secure to the vehicle hauling it. It will keep the trailer from moving around or pitching up while you're attempting to load the bike onto it. The same is true when offloading your bike at the other end.
You can easily load a light bike onto the trailer. However, bulkier bikes will need a ramp. Some trailers include ramps, while others sell ramps as an add-on. If your motorcycle is too heavy to carry conveniently, look for a trailer with a ramp.
You can try riding your motorcycle onto the trailer, but unless you're an expert, we wouldn't advise it for the sake of your motorcycle's bodywork.
2.
Secure Your Bike
Consider using ties and straps that are specifically designed and built for this purpose when looking to transfer your motorcycle or quad bike in a trailer securely. They will not only keep your bike secure but will also protect it from scratches and grazes while in transit.
We prefer ratchet straps because you only need to invoke the ratchet to fasten it once the strap is on. It's simple, and it gives you power and control. The way you tie down your motorcycle depends on the model, but for the majority of light bikes, two ties on either side and two in the front are sufficient, while two in the back and four in the front will ensure complete protection.
Inspect for signs of wear and tear if you're using old straps. If there is any sign of wear and tear, they must be replaced. It is sensible to put your tie-downs in place before loading your bike onto the trailer.
Where Can You Find a Trailer for Safely Transporting Your Motorcycle or Quad?
Your primary concern should be ensuring that your bike arrives in perfect shape when transferring a motorcycle in a trailer. Moving your motorbike yourself can be a good option if you have the necessary equipment and know the costs. Motorcycle trailer rental makes that possible.
A peer-to-peer marketplace for trailer owners and renters like Neighbors Trailer makes it easy and affordable to find a trailer for transportation that matches your budget and dimension requirements. You will find many trailers on the website up for rent that you choose from to transport your motorcycle or quad bike.
Did You Know We Get Over 1100 Trailer Rental Leads Per Day?
We want to send business your way!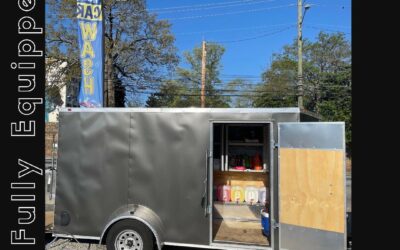 Setting up a car wash and detailing business typically requires a massive investment, but if you are based in Atlanta, GA, and willing to think outside the box, there's a great opportunity for you.