Key Factors to Consider When Choosing a Rental Utility Trailer
From DIY-ers to contractors in construction, roofing, and landscaping, rental utility trailers offer plenty of benefits. The right customized utility trailer can help anyone who needs to tow small or heavy loads behind their truck or SUV.
There are several reasons to invest in utility trailers. Many business owners tend to prefer purchasing them instead of renting. However, renting a trailer might prove to be more beneficial because it reduces their business expenses. It also gives contractors the flexibility to choose customized trailers suited to specific projects.
A wide range of businesses and individuals can find plenty of reasons to rent a utility trailer. However, it is also necessary to make the right decision when choosing a rental utility trailer for your business. You need to know the trailer is equipped to meet your needs. It also needs to be in good working condition to help you make the most of your investment.
If you don't know how to decide on the best utility trailer, we can help. This post will give you a few important tips to help you make a more informed decision when choosing a rental utility trailer.
Tips to Find the Perfect Rental Utility Trailers for Your Needs
Renting utility trailers instead of purchasing them means you do not need to deal with the massive upfront cost of buying them. However, this does not mean you can waste a lot of time and money to rent one, only to find out it is useless for you.
Utility trailers come in all shapes and sizes. If you know where to look, you can also find customized trailers for various needs. Getting the right trailer for the right job could make a world of difference for you.
Let's take a look at some of the tips that can help you find the perfect fit. We will also tell you how you can find the right utility trailer once you understand the factors you need to consider.
1. Understand Your Requirements
The first and most important factor to consider when shopping for rental utility trailers is understanding what you need one for in the first place. What type of cargo do you need to haul behind your truck? The ideal utility trailer can vary, depending on the type of cargo you want to tow.
A business owner who needs to make a few minor deliveries might not need a utility trailer with a massive load capacity. However, a farmer who wants to transport large farm animals from one place to another might need something capable of carrying heavier loads.
You do not want to end up with a utility trailer incapable of carrying the load. It would also not make sense to spend much more than you need to on a trailer bigger than what you need. Identifying your load requirements can help you make a smarter decision when investing in a rental utility trailer.
2. Check the Utility Trailer's Durability
It's said that you should never judge a book by its cover. The same concept could apply to rental utility trailers. When shopping for utility trailers, going for the best-looking one is not a priority. Instead, you should focus more on whether it has the durability to meet your load-carrying needs.
You would be surprised to know how many people end up renting trailers based on appearance, only to complain about performance. You should look for a trailer that aligns with the project at hand. The trailer needs to be capable of withstanding the work you need to do.
Suppose you own a construction business that needs help with waste disposal from a job site. In that case, you need a utility trailer capable of carrying heavy loads. Let's also suppose that the landfill is far from the site. This means you would need a trailer with tires suited for long trips.
3. Understand Towing and Hitch Requirements
There are several ways you can hook a trailer, and not every vehicle is equipped to tow trailers. The trailer does not just need to meet the load-bearing and size requirements. You also need to make sure you can tow the trailer behind your vehicle.
It is always a good idea to take the time out to read your truck's vehicle manual. That vital document should contain necessary information about its connection and towing requirements.
Once you know what your vehicle is capable of, you can narrow down your search for utility trailers. The worst thing you can do is rent a utility trailer your truck's towing capacity can't handle.
4. Examine the Utility Trailer's Tires
The tires on a utility trailer are as important as the vehicle towing it. The type of tires used in a utility trailer can vary depending on the use. Most utility trailers have durable tires that can hold a lot of weight. However, it is always a good idea to check carefully.
If the tires are too small or not suitable for where you need to go, you could end up with a useless trailer. Tires unfit for the job could damage the trailer and end up making you liable to cover the damages. You should also look for visible signs of wear and tear to make sure they are in good working condition.
5. Explore Various Options
It can be challenging to find high-quality rental utility trailers that meet your needs. However, it pays to invest time and effort into exploring all options. Choosing the first utility trailer you find is never wise.
You should take your time to go through an extensive catalog, make a list of possible options, and narrow down your list to the right one. You need to make sure you rent a trailer that meets your requirements and falls within your budget.
Find a Rental Utility Trailer for Any Job at Neighbors Trailer
Besides understanding how to identify the perfect utility trailer for your needs, you need to ensure you get it from a source you can trust. It can be challenging to find a wide enough selection of rental utility trailers to choose from.
This is where Neighbors Trailer's P2P marketplace comes in. Our online platform has an extensive catalog of rental utility trailer listings of all kinds. If you have a job that needs a utility trailer, we are confident you can find the perfect fit here.
Did You Know We Get Over 1100 Trailer Rental Leads Per Day?
We want to send business your way!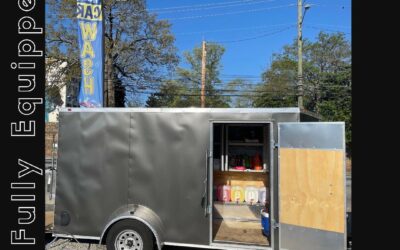 Setting up a car wash and detailing business typically requires a massive investment, but if you are based in Atlanta, GA, and willing to think outside the box, there's a great opportunity for you.