May Pick for Best Trailer Rental Listing
Every month we choose one rental listing to feature as our top choice for best listing on Neighbors Trailer.  The best listing is decided by our staff based on the most complete description, images and overall listing information.
Our May staff pick is Battle Clean Out Services, located in Corinth, Texas. We chose the Battle Clean Out Services listing because a solid trailer in the Corinth area capable of hauling construction materials is high-demand but hard to find. Battle Clean Out Services chose to list trailers for rent with Neighbors Trailer to help locals get the construction materials they need without renting a much larger truck.
This full-service cleaning company serves the Corinth area specializing in commercial and residential full-service cleaning. The Battle Clean Out Services team can undertake any cleaning task from whole office or construction site cleaning to Covid-19 disinfecting.
For $250 per day (with a refundable $250 cash deposit), you can rent a 2022 dump trailer (83' x 14ft) for hauling gravel, stone, and other landscaping materials needed at residential or commercial construction sites (trailer remains at the delivery location for the duration agreed upon in contract). Battle Clean Out Services can also pick up and deliver heavy materials upon request.
Do you want your company featured here?  List your trailer for rent on Neighbors Trailer.
Did You Know We Get Over 1100 Trailer Rental Leads Per Day?
We want to send business your way!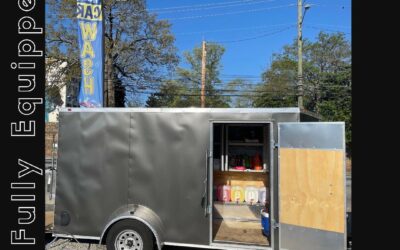 Setting up a car wash and detailing business typically requires a massive investment, but if you are based in Atlanta, GA, and willing to think outside the box, there's a great opportunity for you.