Pros and Cons of Renting Vs. Buying a Trailer
The decision to buy or rent a trailer requires you to research both the pros and cons of each choice. Purchasing a trailer offers you an excellent long-term investment, but it isn't always the preferred option under short-term circumstances. Another factor to consider is the monthly cost of owning a trailer, like loan payments, interest, insurance, and maintenance cost. If the figures aren't appealing to you, it is probably wise to get a rental one.
Understandably, since the pandemic, the price of buying a trailer has doubled. This has led to more people preferring renting, since it makes the most economic sense for short-term and even long-term use. Ultimately, it comes down to assessing your unique needs.
What Type of Trailer Do You Need?
Before deciding whether to buy or rent, you'll first need to determine the type of trailer you require. Various trailers are available in the market, depending on your specific needs. Some different types of trailers include:
Flatbed trailers are typically open deck trailers with no roof and sides to transport heavy, wide, oversized, and indelicate cargo.
Enclosed trailers: They are much like flatbed trailers but with walls and a roof to contain their contents completely.
Horse trailers: Vehicles used to transport several horses.
Dump Trailers: These are used for transporting construction site materials—dirt, demolition waste, or gravel.
Semi-trailers: These are trailers with wheels at the back and supported at the front by a towing vehicle.
Once you've decided on the type of trailer you require, you need to choose its size. Although costlier, it's always advisable to size up if you are unsure of the size rather than sizing down. Below are key points to take into consideration when sizing either rental or purchased trailers:
Load weight: That includes dry/net truck weight—an empty trailer and gross trailer weight—which is the trailer's maximum capacity.
Pulling power: Refers to how large and powerful a truck you need to pull the trailer, all conditions considered.
Hitch compatibility: You need to ensure your vehicle can seamlessly connect to the trailer.
Buying a Trailer vs. Renting a Trailer
To help you make this decision. You should take the following into account:
1. When You Should Consider Buying
If you plan to use your trailer often, be it for commercial or personal use, you should consider the following benefits of owning one:
Whether buying a trailer for personal/business ventures, the purchase adds to your list of hard assets.
Purchase agreements on your trailer allow you a chance to gain an ROI (return on your investment). You can do this by conducting business or even using the trailer to leverage other investment options.
You won't be subject to the fine print, as with leasing. There are likely hidden costs in the terms and conditions of the lease agreement.
Owning a trailer gives you convenience whenever you need to use it and flexibility to do with your property as you deem fit.
Purchasing a trailer for business use allows you tax credits for depreciation which offset the upfront purchase cost.
Total ownership cost includes financing costs, cash outlay, licensing, insurance fees, operating costs—maintenance and repairs, how often the trailer is in use, and what depreciation you experience.
Fortunately, trailers get valued individually. There's no one size fits all rate of depreciation. Therefore, depending on how well maintained your trailer is, it could still fetch a reasonable price should you ever decide to sell it.
2. Why You Should Consider Renting
With the rising costs of trailers, renting one might make more financial sense. Below are other benefits of renting over buying a trailer:
If you only need the trailer for a short duration, renting is faster and easier. It saves the hassle of arranging for financing, licensing, registration, insurance paperwork, and upkeep responsibilities.
If finances are an issue, renting doesn't require you to part with a large sum of money compared to purchasing. You also get access to trailers in mint condition without parting with maintenance charges. Note: You, however, will be held liable for any damages that happened during the duration you rented the trailer.
Renting allows you the convenience of not worrying about storage space for the trailer. You can always pick it up from the rental facility and return it at your convenience.
Considering the above, you can make a sound decision whether to buy or rent.
Working With Neighbors Trailer
Neighbors Trailer is a national marketplace that works with owners—any private trailer owner, trailer rental company, trailer dealership, or equipment rental company and renters to fulfill your trailer needs. Millions of trailers across America are underutilized. Neighbors Trailer aims to mitigate that by providing a way for trailer owners to make money and a convenient way for individuals or companies to rent trailers. Neighbors Trailer allows any trailer except for RVs.
The trailer types allowed include horse trailers, flatbed trailers, motorcycle trailers, enclosed trailers, dump trailers, semi-trailers, bathroom trailers, and other specialty trailers.
How Does It Work?
Using the Neighbors Trailer website to rent a trailer is very straightforward. All you have to do is:
You first need to create a free account by providing your email address, username, location, and password.
Proceed to search. The search field helps you find the trailer you are looking for. Adding filters to define your search criteria can help shorten the results.
Request a trailer rental by selecting your requested dates and submitting your trailer rental request directly from the trailer page.
Get rental confirmation. The trailer owner will confirm the trailer availability for your rental.
When confirmed, you can pick up the trailer from the trailer owner. In some cases, trailer owners may deliver the trailer for an additional negotiated fee while booking.
You'll be required to provide your credit card information when requesting the reservation. However, your card will not be charged unless you are within 48 hours of your rental requested time.
Listing your trailer for rent is also just as straightforward and convenient.
How Do You Contact Neighbors Trailer?
There are various ways you could get in touch with Neighbors Trailer:
Social media pages:
You can get in touch with Neighbors Trailer to benefit from their services by either putting your trailer to work for you or renting a trailer yourself.
Did You Know We Get Over 1100 Trailer Rental Leads Per Day?
We want to send business your way!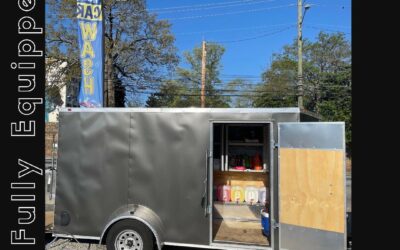 Setting up a car wash and detailing business typically requires a massive investment, but if you are based in Atlanta, GA, and willing to think outside the box, there's a great opportunity for you.