Rental Trailer Owners: Setting Fair Expectations for Your Rental Trailer
Neighbors Trailer has become massively popular among trailer owners and trailer renters. We have been providing a safe, convenient, and trustworthy platform for renters and owners for several years.
At Neighbors Trailer, owners get the chance to make money from their trailers that might otherwise be sitting idle. How? They get to rent out the trailers to people and businesses who need them. Potential renters get a more cost-effective solution to find exactly what they are looking for at a great price.
Are you a trailer owner with a listing with Neighbors Trailer? Perhaps you want tips to make an attractive listing that will engage more potential renters.
We are very excited to get the chance to work with you and we want to help you succeed. Before you get started, we thought you might want to understand one of the most important tips when listing your rental trailer at Neighbors Trailer to increase your chances of becoming a popular trailer owner on our P2P marketplace: Setting fair expectations for your rental trailer.
Today's post will be your guide to understanding the importance of setting fair expectations. It will help you play your part in making Neighbors Trailer a lucrative platform for yourself. Fulfilling your obligations as a trailer owner is one of the easiest ways to get more rentals on your listings at Neighbors Trailer.
The Importance of Setting Fair Expectations for Your Rental Trailer
Just imagine yourself as someone renting a trailer. As a renter, you would expect to receive a safe, clean and well-maintained trailer.
Suppose the trailer is a complete mess or full of dents and scratches when you get it. In that case, you will feel less inclined to take good care of it. After all, a few more dents and scratches will not make much of a difference to the trailer owner. It is already in bad condition, what is the problem with a few more, right?
Now let's suppose you are a trailer owner who receives a rental trailer that is practically in brand-new condition. As a renter, you would want to keep it in as good a condition as possible to return it to the owner without worrying about incurring any penalties for damages.
Investing in paint touchups and taking care of small repairs for your trailer might not seem like a big deal. However, it can make a huge difference for you.
Setting the Facts Straight When Renting Out Your Trailer
When renting out your trailer to a potential renter, we highly recommend taking a walk around your trailer with them. It gives you the chance to note its condition when you deliver it to them. You can also use this as an opportunity to let them know what you expect from them if they will be using your property for as long they are renting it.
Do you expect the renter to return the trailer to you exactly how you delivered it to them?
Do you have any rules about what the renter should and should not haul in the trailer?
Is there a specific use your rental trailer is more suitable for?
Are there any limitations when it comes to what your trailer can or cannot do?
Going over all these details with the renter before handing over the rental trailer to them is a good idea. You should let the renter know that you will be doing another walkaround of the trailer with them when they return it.
A responsible renter will always feel obliged to take good care of your trailer when they are using it. You might not even need to tell them that they should take care of your property. However, a renter less concerned about caring for rental property should get a reminder of your expectations.
Setting expectations when renting out your trailer will ensure they are aware of what they can or cannot do when using your trailer. It will also remind them that they will be held responsible for the condition of the trailer when they return it.
It is also important to manage your expectations when renting out your trailer.
Suppose you have listed a utility trailer designed for hauling heavy-duty cargo. Perhaps it's the kind typically used for construction jobs and other rough uses. In that case, expecting the renter to return your trailer in perfect condition might be a little unfair. While you should expect them to be careful when using it, a few scratches here and there are not uncommon. You should not rent it out to renters looking for heavy-duty work if you are not comfortable with the trailer being dinged up on the job.
Being reasonable with renters about your expectations will help you make a good impression. You might get return customers who prefer renting from you in the future as well.
Are You Ready to Create Your Listing on Neighbors Trailer?
The best thing you can do to set fair expectations for your rental trailer from the get-go is to mention them in your listing. The listing description section on our P2P marketplace offers you plenty of space. You can mention any rules and expectations you might have from people interested in renting your trailer.
Going into these details in the listing itself will filter out renters who cannot meet your expectations. Only the renters who can meet your conditions will inquire about your rental trailer. Have you already created your listing? Do you feel like you should adjust it? Head on over to your listing and make the changes that reflect your expectations.
If you are yet to create a listing, head on over to Neighbors Trailer, create your account with us, and start setting up your listing. Welcome to the Neighbors Trailer family!
Did You Know We Get Over 1100 Trailer Rental Leads Per Day?
We want to send business your way!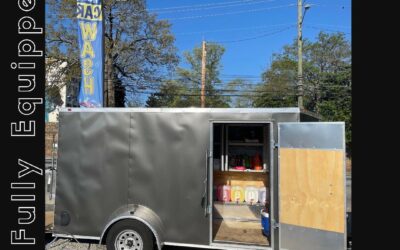 Setting up a car wash and detailing business typically requires a massive investment, but if you are based in Atlanta, GA, and willing to think outside the box, there's a great opportunity for you.