The Benefits of Investing in a Rental Dump Trailer for Your Business or Project
Construction and landscaping businesses use dump trailers to load, transport, and dump large amounts of materials like soil. A high-quality dump trailer is a must-have for anyone running a roofing, construction, or landscaping business.
Dump trailers are no small investment, and buying one might not be the most practical way to use them effectively. Are you searching for the most cost-effective way to fulfill your project's transportation needs? Renting a dump trailer might be the perfect solution for you.
This post will discuss the several benefits of investing in a rental dump trailer for your business or major project. The advantages discussed below could help you understand why your business needs one and how renting one might be better than outright buying it.
Benefits of Investing in a Rental Dump Trailer For Your Business 
1. Cost-Effective Transportation for Landscaping Projects
Suppose you run a professional landscaping business. How often have you found yourself looking for ways to transport compost and topsoil to different job sites? You might think a dump truck would be perfect for the job. However, they are expensive to rent or buy. Dump trucks are also too big and heavy to drive on residential streets safely.
Dump trailers offer you a far more cost-effective solution for transporting material and equipment than dump trucks. They are not as heavy, making them easier to operate on residential streets. Rental dump trailers also prove versatile on job sites, from transporting materials and business equipment to dumping waste.
2. Renting Minimizes Maintenance Costs
Dump trailers require maintenance, just like any equipment or tool you might use on your projects. You need to keep the hydraulic motors that lift the deck and its pump in good shape to get the best out of it. Owning a dump trailer means you need to pay these costs.
Failing to maintain the trailer can result in mechanical issues, costing you far more in repairs. Fortunately, renting a dump trailer makes your life easier. You can let the rentee worry about its maintenance costs, enjoy the benefits of using one, and save a ton of money in the long run.
3. Convenient Construction Waste Disposal
Construction work gets messy, and removing all the waste from job sites is a major hassle. Whether you are building a new facility or remodeling a home, disposing of all the trash can get expensive.
Dump trailers can easily access job sites. You can park it precisely where you need it to load the waste efficiently. You can simply drive it to the closest landfill and dump the waste.
4. Roofing Projects Become Easier
All the shingles and nails resulting from a roofing project can become a hazard. Suppose that the dumpster on the job site is at a distance, with no way of bringing it closer to where it's needed. In that case, you can spend a considerable amount of time simply cleaning up the mess.
Renting a dump trailer makes life easier by allowing you to position it closer to the structure. Loading the waste on the trailer does not take as long this way. You can drive the trailer to the dump site and have it back and ready for more.
5. Dump Trailers are Versatile
Whether you want to transport furniture to a resale shop, move equipment around on your farm, or simply get rid of a large quantity of waste, a rental dump trailer makes it all possible. You can use a dump trailer as an on-site dumpster for all the heavy debris and lightweight trash.
Additionally, anything you would need to haul in a flatbed trailer can easily fit into a dump trailer. If you choose a dump trailer with a rear ramp, you can even use it to transport smaller pieces of heavy machinery to and from job sites.
6. Dump Trailers Help You Save Time
Whether you run a construction company or a landscaping business, time is money. If you want to keep your clients happy and coming back for more business, timely deliveries are critical. Renting a dump trailer can help you save time on your construction projects.
Your crew might have to make several trips to transport material and equipment from one part of the site to another. Using a dump trailer makes it easier to transport a lot more in a single trip, saving time and preventing lags.
Overall, improving operational efficiency with a dump trailer saves resources and makes your construction projects more profitable.
7. Custom Trailer Rentals Provide Greater Flexibility
Dump trailers come in all shapes and sizes. Buying a dump trailer would mean you are stuck with one specific type for all your projects. Rental dump trailers, on the other hand, offer more convenience. When renting a dump trailer, you can choose a custom trailer based on your project requirements.
The biggest advantage of renting a dump trailer is the convenience of choice. Your crew might require different types of dump trailers based on specific projects. You might not even need a dump trailer for many other projects. Your business can save a lot of money by eliminating the costs of  buying, storing, and maintaining something you do not need.
Neighbors Trailer lists a wide selection of dump trailer rentals suited to different needs. Book a rental dump trailer at Neighbors Trailer's P2P marketplace as per your projects' needs. 
Neighbors Trailer Online Marketplace is the Perfect Place to Rent a Dump Trailer for Your Project
Dump trailers can make a world of difference in your business operations, whether you're a contractor or landscaping or roofing company. Renting one comes with significant cost savings and greater convenience for a wide range of tasks.
If you are searching for the right rental dump trailer for your project, check out Neighbors Trailer's P2P online marketplace to find the right fit.
Did You Know We Get Over 1100 Trailer Rental Leads Per Day?
We want to send business your way!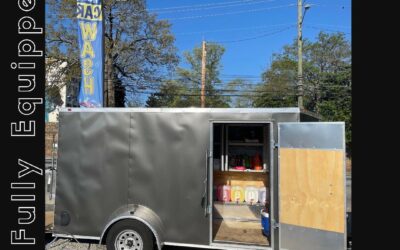 Setting up a car wash and detailing business typically requires a massive investment, but if you are based in Atlanta, GA, and willing to think outside the box, there's a great opportunity for you.