The Key Factors to Consider When Choosing a Rental Trailer
Many reasons prevent some people and businesses from buying and owning a trailer. It could be a lack of space, costly purchase prices, or the expense of ongoing maintenance. A rental trailer allows you to get the trailer you want without having to worry about the costs of purchasing and maintaining it.
Today's rental companies and online marketplaces list a wide range of trailers and other equipment for different transportation needs. But, with so many options available today, how can you make the right choice when looking to rent a trailer?
You must plan ahead of time and weigh all of your options if you're considering renting a trailer for your next endeavor. Here are some key trailer rental factors to consider as you look for the best solution for your needs.
1.
The Trailer's Load Capacity
You must know beforehand the load capacity of the trailer you're renting as well as the load of the goods you are wanting to transport. Checking the sizes of the trailer's axles is one of the easiest ways to determine its load capacity. The bigger the axles, the greater the load capacity of the trailer.
You must also consider the weight of the goods you want to transport. If you are transporting heavy goods, it is self-evident that you will require a trailer with a higher load capacity. A modest trailer capacity, on the other hand, will suffice if that is not the case.
The cost of renting a trailer is usually determined by its load capacity. So, if you have a modest amount of goods to transfer, it is not a good idea to choose a large trailer. However, it is critical to choose a trailer with a higher load capacity than the load you have. There should be some extra room on the trailer. This is useful if you need to carry an additional item.
2.
Rental Terms
You must first determine how long you will need to rent a trailer. Many trailer owners that list trailers on online marketplaces provide terms for rentals on a daily, weekly, or monthly basis. You can find a low-cost option that meets your requirements on an online marketplace like Neighbors Trailer. You can also negotiate with trailer owners about long-term rentals for ongoing transportation projects.
Ensure that you know all the fees involved and whether there will be extra charges for returning the trailer late or at a different place. You must also find out how far in advance you need to book a trailer rental. Contact the customer service reps of the renter or the intermediary before you reserve the rental. It will ensure that you know everything about the trailer that you need to know before renting it.
3.
Towing Capacity of Your Vehicle
You need to ensure that the trailer you are going to rent can be towed by the vehicle you will be using. It is critical that your tow vehicle has enough power to pull the trailer.  If not, you will put excessive strain on the transmission and engine which can lead to the vehicle overheating and damage.
More pertinently, the tow vehicle must be adequately resourced for towing in accordance with the vehicle manufacturer's recommendations, as well as have the factory tow rating capacity to handle the load it is towing. It will only happen if you rent a trailer that is designed to work with your towing vehicle.
4.
Maintenance Obligations and Terms
One of the advantages that only some rental trailers provide is the ability to have a maintenance contract that covers everything in terms of upkeep and performance. These companies or marketplaces allow you to choose between a maintenance plan that includes emergency repairs and one that covers all basic care and repair. It is a more cost-effective alternative to purchasing a trailer for many individuals and businesses.
5.
The Condition of the Rental Trailer
You should inspect a trailer before you rent it. Inspect the trailer to make sure there are no obvious defects. Ensure that the trailer is in good shape. You must also make sure that you have the option of returning the trailer and renting another one if you rent a trailer and discover later that it is in poor condition.
6.
The Goods to Transport
The majority of people overestimate the contents they need to transport and end up booking a smaller trailer. Keep in mind that bulky items and large appliances will require more space than the others. It will help you in choosing the right trailer for the size of your belongings. Tell the customer service team of the leaser or online marketplace how many goods you have if possible; they will help determine the best trailer to rent.
7.
Safety
You must also ensure that the trailer is safe to use. Check that it is in good working order and that all of its parts are fully functional. You should also look for safety features inside the trailer.
The trailer must have proper working lights, and brakes. The tires and suspension of the trailer also need to be in good working condition; the deck needs to be clear of any debris; and the trailer needs to have the right size ball to fit the coupler.
Are You Ready to Rent a Trailer? Neighbors Trailer Has Got You Covered
You should not rent any random trailer because each one is unique. It is also critical to ensure that you get the most bang for your buck and that you are safe with the trailer. Follow our advice above to ensure you have everything covered. You can also find a rental trailer that ticks all of the boxes or conditions mentioned above by browsing through the wide range of trailers up for rent at the Neighbors Trailer online marketplace.
Did You Know We Get Over 1100 Trailer Rental Leads Per Day?
We want to send business your way!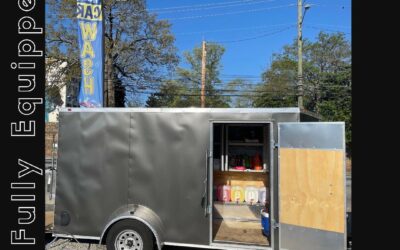 Setting up a car wash and detailing business typically requires a massive investment, but if you are based in Atlanta, GA, and willing to think outside the box, there's a great opportunity for you.