Top Advantages of Renting a Trailer
Trailers are a convenient tool for traveling, transportation, recreation, and business, so their popularity is understandable. The convenience and demand also mean that they are somewhat pricey, pushing them out of most people's affordability. Although that puts buying out of the question, there are several advantages of renting a trailer to fulfill your needs.
This article will address the benefits and provide a brief guide to help you choose the right trailer.
Advantages of Renting a Trailer
We know the decision is challenging, but the following are some of the top advantages of renting a trailer:
1. Cost-Effective Solution
Firstly, renting a trailer is a far more cost-effective solution than buying one. For example, the average price of a regular dump trailer ranges from $8,000 – to $10,000. Additionally, getting one from a higher-end brand would further increase this price, pushing it over $12,000.
In contrast, renting the same would cost you $60 – $150 per day, increasing by a maximum of $50 for the best dump trailers. You will likely only need to use the trailer a few times a year, so renting would be a far better option.
2. Convenience
One of the top advantages of renting a trailer is the storage convenience. Few people have the luxury of having enough space at their residential property to accommodate even two cars, let alone a trailer.
The good thing about renting one is that you will not need to think about this problem. You can use the trailer and return it to the organization soon as your work is done to make life easier for yourself.
3. Choose Options Based on Needs
Most people buy trailers because they are necessary for fulfilling a specific need. However, there is no telling how frequently your owned trailer will be helpful in the future. The good thing about renting is that it doesn't take up too much of your investment and you can choose a different option.
Therefore, you can use a cargo trailer for transferring goods or get a specialty trailer to transport your boat. You can choose a different trailer type to rent each time, making it easier to fulfill your needs and requirements.
4. No Need for Repair or Maintenance
The repair and maintenance of trailers are the owner's responsibility. Therefore, you can rent one out without worrying about its condition. The rental owner will ensure all their trailers are in top condition if they want to improve their sales and reputation.
It would be best to work with a reputable rental service provider, like Neighbors Trailer, to ensure you don't get a faulty product.
5. Mock Tests for the Future
You can also rent a trailer to test the waters before finalizing a purchase. Regretting your decision after spending money is not ideal. Therefore, it is best to rent the trailer type you have in mind for your need and see how it works out for you.
The activity will help give you an idea about the utility you will get from the product and determine if it is worth the price.
How to Choose the Right Trailer
Choosing the right option when you rent a trailer is just as important when you're buying it. Sure, the cost is lower, but why waste money when you can make the right choice? Following are some essential tips to help you make the right choice:
1. Select a Suitable Type
You need to thoroughly explore your needs and understand your requirements to determine which trailer would be best. For example, Cargo trailers are best for transporting bulky and nun-bulky belongings across an extensive distance, whereas motorcycle trailers are best for transporting the mentioned vehicles safely.
Mismatched needs and trailer choice will reduce the value you get from renting it, so it is better to give the decision some time and consideration.
2. Consider the Size
Trailers come in different sizes, with larger ones more suitable for more heavy-duty work. It is best to discuss details about the items you are transporting with the rental experts. They will assess your needs and recommend the optimal size to suit your requirements.
It is necessary to keep their recommendation in mind when making the final selection because it affects the safety of your material. Smaller options will cause the space to become cramped, potentially leading some items to become disfigured.
Conversely, too much space will increase the likelihood of turbulence, sending material toppling over and becoming damaged in the process. Either choice will cause inventory damage. Furthermore, getting a larger than necessary trailer will also be unnecessarily expensive.
3. The Vehicle to Tow the Trailer
Your trailer of choice needs to be compatible with the vehicle you'll use to tow it. Check with your rental service provider and ask them if there is any discrepancy. Most people choose something their cars can support as it is a convenient option.
We recommend the same unless the option is not suitable. In that case, you will also need to rent a suitable car for transportation.
4. Choose a Reliable Vendor
Finally, it is critical to choose a reliable vendor. A vendor's reputation shows how reliable their trailers are, the quality of customer service, and their relationship management skills.
Neighbors Trailer is a peer-to-peer trailer rental marketplace and is selective with its approval process for listings. With Neighbors Trailer, you choose who you want to rent from, which trailer you want to rent at a cost that is affordable for your budget, and you can rent from a location closest to you.
Final Thoughts
In a nutshell, advantages of renting a trailer include convenience, cost-effectiveness, flexibility, etc. renting can also help you test out a few trailers before making a final purchase decision to avoid making an incorrect choice.
If you are interested in renting a trailer, browse all the listings on Neighbors Trailer and we are sure you will find the right trailer at an affordable price.
Did You Know We Get Over 1100 Trailer Rental Leads Per Day?
We want to send business your way!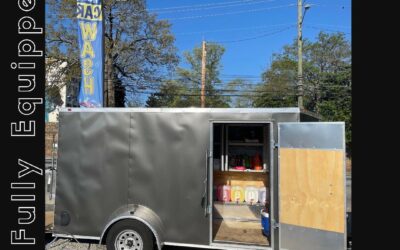 Setting up a car wash and detailing business typically requires a massive investment, but if you are based in Atlanta, GA, and willing to think outside the box, there's a great opportunity for you.