Trailer Dealerships: The Advantages of Listing Your Trailer on Neighbors Trailer
The trailer rental industry has grown rapidly in the last few years. According to the Trailer Global Market Report 2022, the global trailer market is expected to grow from $47 billion in 2021 to $52.46 billion by the end of 2022. Business has been booming for trailer manufacturers in the US, with the market bringing in $11.9 billion in revenues this year.
With the global trailer industry growing, manufacturers are hitting greater numbers. This means dealerships must be doing much better too, right? Well, yes, but things could be better.
The question is: why should you settle for revenues by simply selling trailers? You have a lucrative opportunity waiting in the continuously growing trailer rental industry as well.
The Demand for Rental Trailers
Several successful trailer rental businesses have gained popularity in the industry the past few years. Their growth is credited to the convenience rental trailers offer end consumers. They only need to pay for the duration they need to use trailers. Customers do not need to worry about long-term maintenance costs. This also saves them from the massive upfront expense of purchasing a trailer.
Contractors prefer renting various types of trailers instead of buying them. Rental trailers help contractors improve their bottom line while reducing expenses. Companies also enjoy the flexibility to choose different trailers based on project requirements.
The demand for rental trailers is growing. Rental businesses are taking advantage of the opportunity and raking in significant profits. Why should trailer dealerships be left out of the fun?
We will discuss a few problems trailer dealerships face when shifting to a rental model. This post will also explain how working with Neighbors Trailer can help you.
Why Dealerships Typically do not Prefer Entering the Rental Trailer Business
Expanding your dealership to the rental trailer market can help you unlock a recurring revenue model. You can get more out of your company's assets by renting out your trailers instead of selling them. Of course, this comes with a set of challenges and drawbacks that might deter some dealership owners.
Trailer dealers typically do not want to deal with the challenges that come with adopting a rental business model, which may include the following.
Dealership owners do not have the time to deal with all the phone calls for rentals.
They do not want to invest in extra advertisements for a new business model.
Creating software for rental reservations requires a significant investment.
Dealerships are not equipped to screen renters using trust scores. This means they have a harder time finding high-quality renters who will use their rental trailers responsibly.
Dealerships do not have the infrastructure to collect rent from renters. This could make it challenging for them to effectively generate revenues.
They are not equipped to deal with damages when a trailer is returned.
Dealerships do not have rental insurance to cover any loss or damages to their assets.
Many dealership owners do not consider starting a rental business model because of these problems. The biggest issue with making changes is the cost to set everything up. Developing a successful rental model for your business could require a lot of work. You would have to hire more employees and create a business plan. Plus, you may require a sizeable investment to set everything up.
However, what if there was a way to easily solve all these problems? We might have the perfect solution for you.
Neighbors Trailer to the Rescue | The Advantages of Listing Your Trailer on our P2P Trailer Rental Marketplace
We are America's first peer-to-peer marketplace. This is where trailer owners and trailer renters come together. Our business has been putting up a great performance since it launched. We have been helping local trailer owners throughout the country find high-quality renters. Neighbors Trailer is on track to become the #1 resource for trailer rentals of all kinds.
The success of our business model could make us the ideal rental trailer partner for your dealership. Working with us comes with a wide range of solutions to problems that would otherwise make it challenging to get into this growing industry.
The Advantages of Listing Your Trailers on Our Rental Marketplace
Renters can make reservations through the platform online. As a result, you do not need to worry about dealing with phone calls.
We handle the marketing to drive more traffic to each dealer's listing on our online marketplace. It means you do not need to spend additional money on advertisements.
We manage all the reservations for you. Your dealership simply has to update the availability of your trailers through our platform.
We are launching new features for customer trust scores to give you the peace of mind of only working with high-quality renters.
Collecting payments will be easier for you. Renters pay directly to our platform via Stripe. We transfer the payments to your bank account.
Neighbors Trailer deducts any damages done to the trailers from the deposit. To make things better, we also have a claims portal on our platform to handle excessive loss or damages.
We are also starting insurance coverage for all the rentals processed through our platforms. The renter will pay for this coverage with each rental transaction. As a result, you do not need to worry about insurance premiums eating into your profits.
Are You Ready to Take Your Trailer Dealership to Another Level?
The 2022 Trailer Global Market Report expects the global trailer industry to grow to $78.08 billion by 2026. The sector has a lot more growth to offer. With the right partners, your dealership has the chance to enter a profitable market.
We have already been helping local trailer owners and renters enjoy the convenience of an online marketplace. Partner with us to improve your cash flows and scale your business.  Register now and take your dealership to the next source of revenue.
Did You Know We Get Over 1100 Trailer Rental Leads Per Day?
We want to send business your way!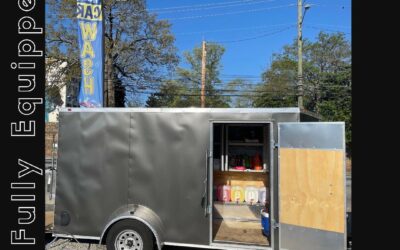 Setting up a car wash and detailing business typically requires a massive investment, but if you are based in Atlanta, GA, and willing to think outside the box, there's a great opportunity for you.