Trailer Rental Listing of the Month
At Neighbors Trailer, we have so many great trailers listed for rent.  Each month, we feature one listing on our blog.
This month we go to Pleasant Grove, UT to put the spotlight on a trailer rental by Westin.
Westin is a trailer owner who decided he wanted to make some money renting out his trailer when he is not using it, so he made the wise choice to list his trailer for rent on NeigborsTrailer.com
Westin's trailer is a very nice and well built flatbed manufactured by Big Tex.  The trailer is 18 feet long, with a dovetail, includes 2 ramps, and has a payload of 5,000 pounds.  The best feature about this trailer might be that it includes a winch for non-running vehicles.
This trailer can be rented for only $49 per day.  Where can you get an 18 foot trailer rental for $49?  Only on Neighbors Trailer.  Please give Westin your business the next time you need to rent a flatbed trailer.  For more information or to rent this trailer, visit: 7×18 5000lbs payload flat bed trailer – Neighbors Trailer
Neighbors Trailer is a nationwide trailer rental marketplace.  If you have a trailer you would like to rent out, check out our website: NeighborsTrailer.com
Did You Know We Get Over 1100 Trailer Rental Leads Per Day?
We want to send business your way!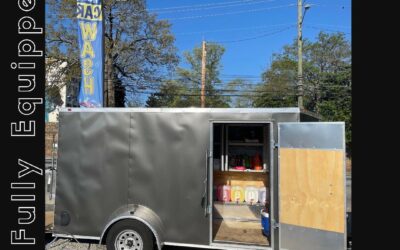 Setting up a car wash and detailing business typically requires a massive investment, but if you are based in Atlanta, GA, and willing to think outside the box, there's a great opportunity for you.