Trailer Safety 101 | The Essential Trailer Maintenance Checklist for Every Driver
Are you a roofing contractor working on a project that involves hauling material and equipment? Are you a farmer who needs to transport some farming machinery or livestock? Regardless of your hauling needs, you can find the right trailer for the job. However, just having the right type of trailer should not be the only thing to consider. Making sure your trailer is in good working condition is essential.
Trailer safety should always be a top priority for every driver towing one behind their vehicle.Many drivers hauling cargo in trailers behind their trucks or SUVs think conducting a pre-trip check is all they need to do to ensure safety. While checking on your trailer's condition before you head out on the open road is important, it is not the only way to ensure safety.
Making sure you handle your trailer's maintenance needs on time is critical. We all know that a well-maintained vehicle is safer to drive. Without a trailer in excellent working condition in tow behind your truck, you could risk the safety of others and yourself.
Sticking to a regular trailer service schedule is just as important as having one for your truck. Trailers do not come with a complex powertrain that needs constant monitoring. Still, they require some work to stay in good working condition. There are several parts in a trailer that need attention. After all, these trailers go through a lot, depending on what you are using them for.
Keeping a checklist is the most straightforward way to ensure that your trailer's maintenance needs are met. Today's post will give you the essential trailer maintenance checklist every driver should know and follow.
Trailer Maintenance Checklist for Every Driver
This section of the guide will discuss different parts of the trailer. It will tell you how often to inspect and service them to ensure complete safety.
The Trailer Coupling
Inspect the trailer coupling each time you go for a trip.
Regardless of how often you use the trailer, you should always make sure it is in good condition. You need to keep it clean and ensure it has no slack, whether it is left-to-right or up-and-down.
The latch has to stay in place whenever the trailer is in use. You need to make sure it stays locked using cotter pins. Never forget to attach the chains to the secondary couplings.
The Trailer Tires
Inspect the air pressure in your trailer's tires before each trip. You should replace the tires with new ones if there are cracks on the sidewalls or the tread has a lot of wear and tear.
When checking the tires,wear gloves and run your hand over the tires to see if there is any damage in the tire. Look for punctures, anything stuck in the tire, or low tire pressure.
It would be useful to invest in a tread gauge to keep a check on the tire treads if you use the trailer frequently. It will help you determine when it is time for a replacement.
The Wheels
You only need to service, repair, or replace the trailer's wheels if they are damaged. Always make it a point to examine the wheels when doing your tire inspections. If you see any damage, rust, or general wear and tear on the wheels, address any problems you see without delays.
The Wheel Bearings
You should service the wheel bearings in your trailer at least once a year. Suppose you use your trailer often and put it through a lot. In that case, it might be better to check on the wheel bearings more often.
The Brakes
You should inspect your trailer's brakes before each trip and service them at least once a year. It does not matter whether your trailer has electric or hydraulic brakes. Getting the brakes serviced once a year is necessary. If you use the trailer frequently, servicing the brakes twice a year might be more effective.
The Trailer's Suspension
Inspect your trailer's suspension before every trip. Most trailers typically feature leaf spring suspension, but some of them have axleless and torsion axle setups. Examine the trailer's suspension to check on the bolts, rubber, metal, and everything you see. Check for any signs of damage like rust or wear and tear.
Spraying the trailer down after each use is a good way to keep the suspension in good shape. It removes any dirt, grime, and salt that can deteriorate the trailer's components.
The Lights
You need the trailer's lights in proper working condition, and you should check on them before every trip. Replace both the lights if even one of them dies.
The Metal or Wood
If you take good care of the trailer's cleanliness, you will never have to service or replace the metal or wood that makes up the trailer walls. Look for any signs of deterioration, from soft spots in wood to rust in the metal. You should also check for any general wear and tear.
The Safety Chains
Always check the integrity of the safety chains in your trailer before each trip. You should replace the chains if they are damaged or broken. Check for any warping, cracks, rust, or misshapen chain links before every trip. Do not tow the trailer if the safety chains are not in good condition.
Don't Have Time to Maintain a Trailer? How About Renting One From Neighbors Trailer Instead?
Suppose you are a contractor or a farmer on the fence about buying a trailer, and you do not need to use one that often. All these maintenance requirements might feel like too much effort —- especially for something you rarely use.
Renting a trailer might be a much better way to get your hands on a trailer to meet your needs than buying one. When renting a trailer from a trusted source, you do not need to worry about its maintenance. The trailer owner will be responsible for keeping it in good working condition. You just need to care for the trailer when you are using it.
Neighbors Trailer's P2P marketplace is one of the best platforms for people who need to rent trailers. We boast an extensive collection of rental listings for various types of trailers. If you need to find a trailer to meet your needs, we are confident our collection has the ideal fit for you.
Did You Know We Get Over 1100 Trailer Rental Leads Per Day?
We want to send business your way!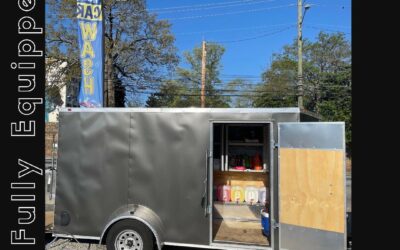 Setting up a car wash and detailing business typically requires a massive investment, but if you are based in Atlanta, GA, and willing to think outside the box, there's a great opportunity for you.