Why Renting a Trailer Is Better Than Buying One for Your Business
Many businesses opt to buy a trailer to better serve customers and grow. On the other hand, some business owners prefer to rent a trailer for a specific purpose for as long as they require it and then return it.
Any business owner who depends on trailers will eventually have to choose between renting and buying them. There are many reasons why renting a trailer rather than buying would be a better choice for your business. The following are some of the reasons and circumstances that make renting a trailer a viable choice for any business.
Avoid Big Upfront Capital Outlays
You're in for a big shock if you've never looked at the price of a trailer before. They can be pretty heavy on your wallet! While buying outright may appear to be a fantastic idea on paper, it still calls for a large amount of money upfront. This is money that could be better spent on other important areas of your business.
Avoid Risks Related to Owning Trailers
There are several risks associated with trailer ownership, which typically result in a large cost landscape in addition to the asset investment. Managing an owned trailer or fleet of trailers may be complex, time-consuming, and costly. It depletes resources that could be better spent on the core business. A trailer rental helps to avoid this, as all the risks associated with owning a trailer no longer apply to you.
Relocate Your Equipment after Winning a New Customer Contract Quickly and Affordably
You've just won a new customer contract that requires you to move your equipment to their facility. The problem is you're not entirely equipped for the logistics involved in it. What should you do? You can start to meet the needs of your new customer while simultaneously relocating your equipment to their site by renting a trailer. This is a faster way to get the ball rolling than buying a trailer for your logistics needs.
Rent Different Trailers for Different Purposes
You can use trailers for a variety of business tasks. This includes event setup, construction, oilfield operations, industrial work, and more. Purchasing a trailer restricts the types of jobs you can perform to those for which the trailer was designed.
However, if the need for performing a specialty job arises, you'll either be out of luck or will have to buy another trailer that is better suited for the job. You can avoid this by opting to rent a trailer whenever a need for it arises. Renting a trailer expands your options for the kind of work you can undertake in ways that buying cannot.
Meet Seasonal Demands by Supplementing Your Trailer Fleet
Customer activity that spikes at certain times of the year might put a strain on your capacity to provide excellent service. You can supplement your trailer fleet with rental trailers to fulfill your short-term obligations during that period.
Total Cost of Ownership Is Minimal With a Rental Trailer
A trailer will need routine maintenance to be safe on the road, which is both costly and time-consuming. Extra wiring, tires, and rust protections can quickly deplete any economic incentive you had for purchasing the trailer in the first place. You can avoid having to worry about maintenance by renting the trailer you need. Maintaining the trailer and ensuring it is always in good working condition will be the responsibility of the person/company that rents out the trailer to you.
Many people consider ownership to be just paying for something. Business owners, however, should consider how much it costs to keep their assets in working order. A trailer will undoubtedly require an initial investment to cover the cost of the purchase. However, the owner must also factor in annual maintenance, future improvements, repairs, insurance coverage, wear and tear, inspection fees, and a slew of other factors that add to the total cost of ownership.
Business owners can avoid these long-term costs by renting the trailer. Renting it for a short period may be more expensive, but if the business owner just requires the trailer occasionally, renting is definitely the better alternative. Renting is generally a smart short-term solution for new business owners who need to immediately bridge the gap between themselves and their clients.
Pay for the Trailer Only for the Time You Need It
Renting is almost always a better choice even though long-term use over many years tends to justify buying a trailer. You need to pay for a trailer only for the time you rent it for. A trailer might cost $10,000 to buy. But if you only need it for five days and the rental rate is set at $80 per day, you will only need to pay $400 for a trailer that is worth $10,000 otherwise. That is the advantage you have with a trailer rental.
Avoid Having To Worry About Storage When You No Longer Need the Trailer
Consider what you'll do once the project for which you purchased the trailer is completed. Would you still require it? Do you have storage space for the trailer if you purchased it? Many people overlook these factors when deciding whether to buy or rent; they end up with an incredibly costly piece of equipment that they must store and maintain as a result.
Renting is advantageous because you do not have to think about the trailer once the project is completed. There are no storage concerns to worry about. You simply return the trailer, and if you need it again, you will always have the option to rent it. No worries!
Neighbors Trailer Has the Perfect Trailers for Your Business
You will find a trailer that can meet your specific business needs on Neighbors Trailer whether you need it for logistics purposes, industrial work, construction, or other business uses. Browse through the list of trailers on the peer-to-peer online marketplace for trailer owners and renters to find the perfect trailer for your needs.
Did You Know We Get Over 1100 Trailer Rental Leads Per Day?
We want to send business your way!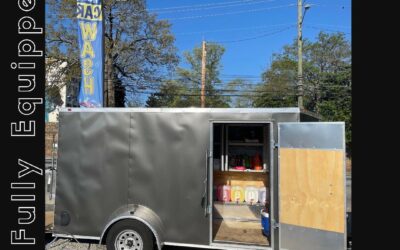 Setting up a car wash and detailing business typically requires a massive investment, but if you are based in Atlanta, GA, and willing to think outside the box, there's a great opportunity for you.